The F-150 is a game-changer for the electric industry! Since its official unveiling back in May, the all-electric F-150 Lightning pickup truck has become one of the most talked-about new products in history.
Here's all you need to know and why this truck is the most promising we've seen yet:
Pricing and launch
First things first, let's get the cost out the way. The F-150 Lightning will land at the end of the year, but we reckon 2022 is probably a safer bet. Anyways, the commercial-grade Pro model is expected to come in at around £28,000, which given the spec and the fact it's fully electric, is extremely attractive!
Trim levels have also been confirmed for the Lightning and if you tick all the option boxes, you could be looking at paying anything from around £64,000 upwards!
Thunder and Lightning
Ford has really upped its game with the F-150 Lightning, and while the Rivian and GMC Hummer are all very sleek, they are more like toys and for the tech geeks than actual pickup trucks. The Lightning is much more than that and quite the opposite. It's a real pickup truck, one that's fit for purpose and can do its job, so there's no need to worry about that.
If you're wondering where Ford has got this idea from for this beast, they have taken America's favourite car and given it an electric powertrain, if that's not on to a winner, then we don't know what is. The Lightning has a completely different appeal compared to its rivals and that's what makes it even more amazing and makes it more unique.
Light up your house
If this doesn't get you going then we don't know what will. Believe it not the Lightning can hold so much charge that it can act as a generator for your house! A generator for your house for up to three days, not just one. Imagine that? Its pretty powerful that's for sure. It's surprising that someone didn't think of this already, and it would be sick if we could see more electric cars doing this in the future.
The proper title is Ford Intelligent Backup Power if you want to know the technical term. The F-150 can offload 9.6 kilowatts of electricity, which is more than enough to power the lights in your house and even your security systems if you have any.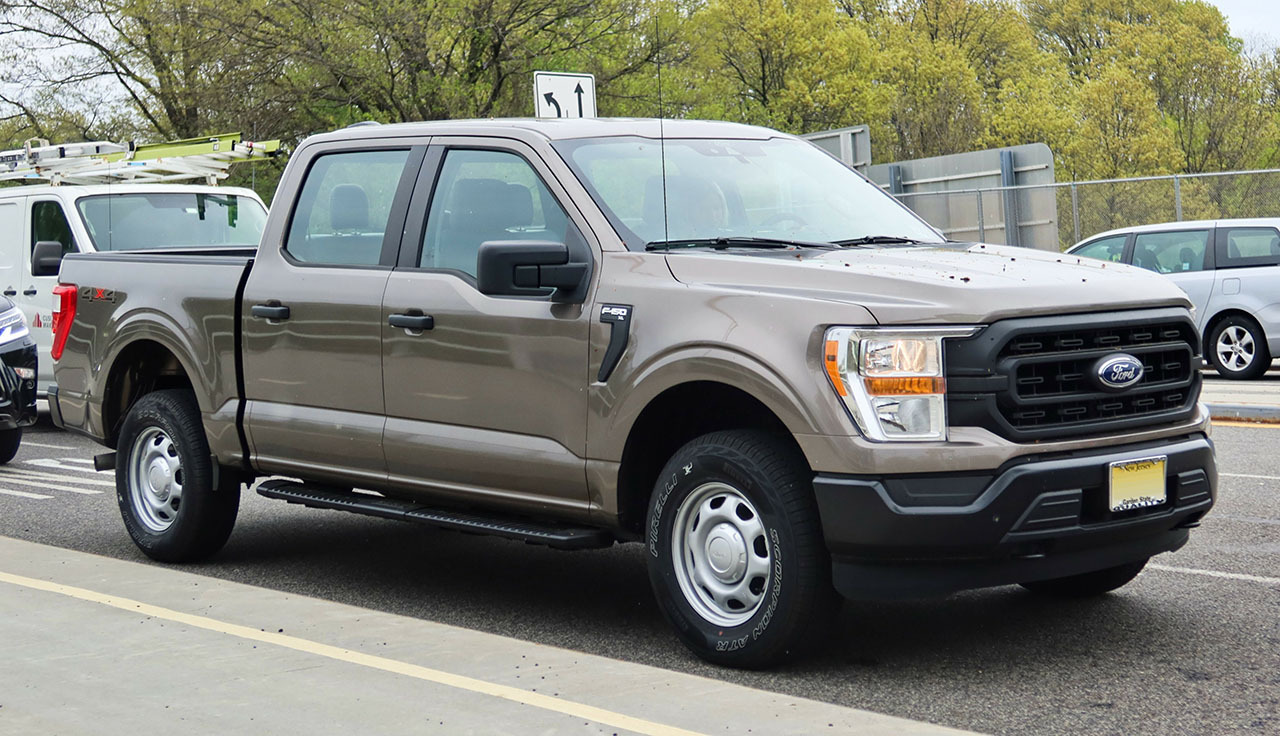 Tech fest lovers
If you love your technology, then you'll love this. The F-150 couldn't be filled with any more of the latest technology that it has got. The infotainment display is just something else, with a 15.5" portrait display, running the latest version of Ford's SYNC, it's capable of a lot more than you might first think, like Power-Up over the air updates.
Apart from that, the interior is pretty much the same as the rest so it's quite familiar you could say. Even down to the fold-away gear-lever. One of the big things that are bound to get you going through is BlueCruise. Making its debut in an F-Series truck for the first time ever, BlueCruise means that you can drive hands-off on over 100,000 miles. Incredible!
Frunk of all trunks
If you're about boot space, then don't be. These days a lot of electric cars have additional storage underneath the bonnet, which is great for all of us that pack everything but the kitchen sink! Thanks to no internal combustion engine taking up all the space, the F-150 has bare room to hold up all your bags. Just pop the bonnet open and you've sorted thanks to its frunk.
Just in case you're wondering, it's absolutely massive! You'll find that this comes in handy and it's great if you have any valuable items and things you want to keep safe.
Power is everything
Of course, when it comes to electric cars or trucks, the question that we all want to know is what is its range like? There's no beating around the bush, power output and range is up there on the list of qualities. So regardless of trim level, the F-150 Lightning has two motors and AWD as standard. Although Ford hasn't spoken about battery sizes yet, this is what we do know.
Your basic Lightning can hit around 230 miles of range, but your Extended Range package boosts that up to around 300 miles. You can see the jump here and if it can live up to these expectations, we're onto a winner. If we're talking most powerful, then we're looking at the 563 HP and 775lb/ft of torque, which is the highest figure to date in an F-150 truck! We were as shocked as you probably are right now. At 60mph in the low 4-second range, this also makes the F-150 the quickest too.
If looks could kill as they say
On the face of it, the F-150 Lightning looks the same as the regular powered F-150, but when you get down to it, you'll notice a few differences that tell you that this is a completely different beast.
From the front, its big and brashy grille has been cut out and replaced with a saucy solid panel. If the bar couldn't be raised any higher, it's even got rear light bars, as well as the front ones, connecting the LED strips in headlights! Sounds fancy, doesn't it? Thanks to a new aerodynamic wheel, that's been designed specifically for Lightning. And if you're looking for the Lightning badge, check down on the rear fender.
You don't even want to know what the first year's production is set at already. Ford is already looking at around 82% reservations of the 2021 production, have you thought about getting your name down? It's unlikely that the F-150 Lightning will ever be sold in the UK, imagine trying to squeeze that down the road?
Still, if you're heading to America and need help raising the cash for a new electric F-150, we can help with that. Our free online valuation tool is all you need to get value for your car. We work with only the best UK car buyers within the UK, so you can relax knowing that you'll get the best price.