Started from the bottom now we're here, the Subaru Impreza. If you're a lifelong Colin McRae fan, then hi-five! We don't know anyone who isn't these days. Put it this way, if there was an opportunity right now to buy a genuine, low-mileage Impreza, we know we wouldn't be passing it up. Find out how McRae created the Impreza that we all know and love today here.
Background checks
At over 20 years old, now is the time to get your hands on one if you haven't already. With a bit of love and care, you could spruce up the Subaru Impreza and have it in shipshape condition before you know it.
The series McRae was the first in a run of limited edition Impreza Turbos released by Subaru over the years. Limited to just 200 cars, the Mcrae was born to cater for Colin's first Word Rally Championship and the win thanks to the Subaru 555 World Rally Team.
Built here in the UK by Prodrive, they painted them Rally Blue before rebuilding them to include 6.5×18 gold eight-spoke Speedline Safari alloy wheels. That's not all, you've also got the Recaro seats too, featuring open headrests and trimmed in Le Mans fabric, matching door trims, as well as the boot-mounted badges and numbered plaque on the centre console. If that's not desirable enough for you then we don't know what is.
Sadly, Subaru can't cater for us all and it's believed that there are only around 120 that have survived over the years. We know how heart-breaking this is but at the same time, this has helped to lift the value of the current ones that do remain.
The beast itself
The car itself is such a significance in racing history and was the first-ever to roll off the production line. McRae certainly put it through its paces during testing, and it's fair to say that the end result was stunning and worth every penny.
You'll never be able to shift that image in your head of the iconic blue and yellow Subaru Impreza, it's the standard WRC design that will be with us forever. From the outside, the electrically operated slide-and-tilt metal sunroof is on point, along with its alloy wheels, which have been refurbished in their original gold finish.
From the inside, the original series McRae Recaro drivers' seat is ready and waiting for you to park your backside. The rest of the seats are matching too, of course, the dashboard hasn't suffered and this Impreza series is a McRae legend, that's original and beyond a champion. Peter Stevens, the man responsible for the design, did a grand job, wouldn't you agree? The appearance overall is just fabulous, the arches are swollen, but they were smoothed out and it will do for the family, just less of a four-door.
The overall stance is incredible, aggressive yet also friendly, it's just got good vibes written all over it. That's the Impreza for you and it's all thanks to McRae, such an iconic driver who dominated the 1990s with this beauty.
Tragically, McRae died in a helicopter crash back in 2007, but the 300bhp Impreza lives on and will no doubt continue to be mouth-watering to all prospective buyers. If you don't get goosebumps when passing one of these, then something isn't right.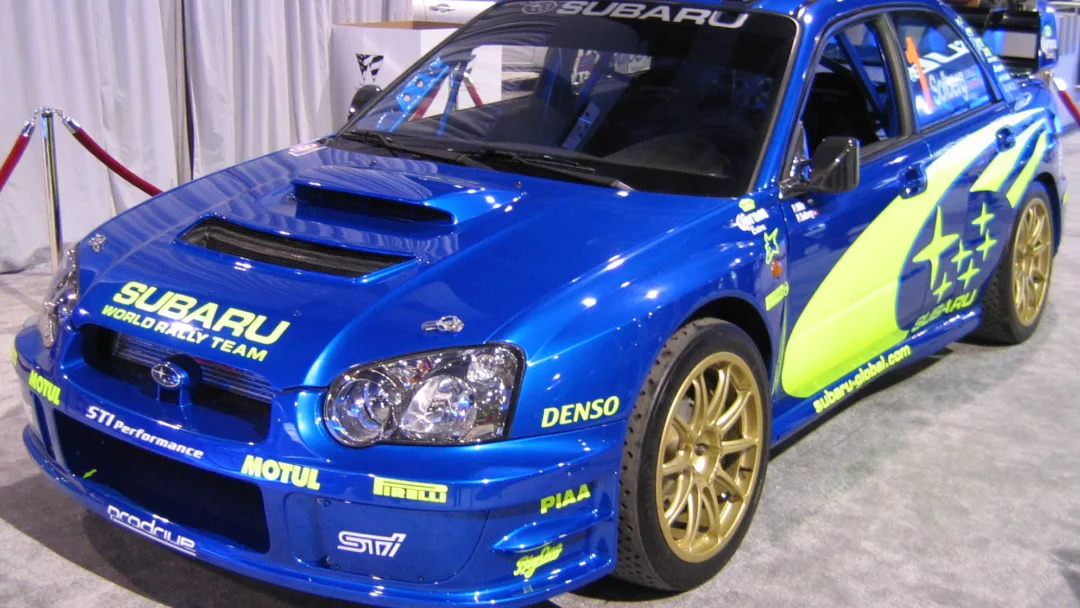 Racing highlights
McRae himself and Nicky Grist used P8 WRC. They successfully bagged their first WRC win with this baby on the Safari Rally, the third round of the 199u7 season. Actually, McRae was merely extending a win Subaru run for the new WRC cars as his two teammates, Liatti and Eriksson, had already scored their victories in Monte Carlo.
After its victory in Africa, the Impreza couldn't keep up with coming out on top and came second in Argentina, before retiring in Indonesia. It was the last of four retirements that just tipped McRae's over the edge for the championships that year.
The Subaru Impreza was still a championship-winning car, despite winning the trophy in 1997 against Ford for manufacturers' title for the last time. As for the car itself, that didn't give up and it went on to set up its life in Italy.
Today, the P8 WRC is owned by the one and only Max Girardo of Girardo & Co. Originality is at the heart of McRae's cars, especially for those who live for a good old classic car that can provide safety and is also a thrill to ride. For this reason, it's no wonder that cars like this don't come cheap anymore. What you see is what you get and if you can get your hands on one, grab it with both hands! You won't regret it.
On that note, if you do find yourself looking for one but you want to get some cash for your current car first, you know where to come. Grab yourself a quote for your car in seconds right here and be on the road to selling it with one of our trusted car buyers. It's easy, simple and most of all, it's free. Enter your reg number now to find out how much your wheels are worth.