Parking all your offers in one place
Jamjar makes valuing your car as easy as possible, with no personal details required! That's right, no name, no email and no phone.
Today Jamjar launches its latest TV advert campaign to show you how simple, easy and efficient it is to sell your vehicle while gaining the best price possible.
With a superior feel and innovative storytelling at its heart, the advert closely mirrors Jamjar's values of minimum fuss and the most convenient service.
The campaign features a woman leaping from her car with her laptop in hand, into a coffee shop, upon where she enters her registration number into the UK's original car-buying site. With no hidden fees and no need to enter any personal details, she sits back and watches the best offers roll in from the best-used car online buying websites in the UK.
The advert will appear on Channel 4, Channel 5, Dave, More 4, Film4, and Sky Sports, as well as ITVBe and GOLD and, will run throughout the Christmas period.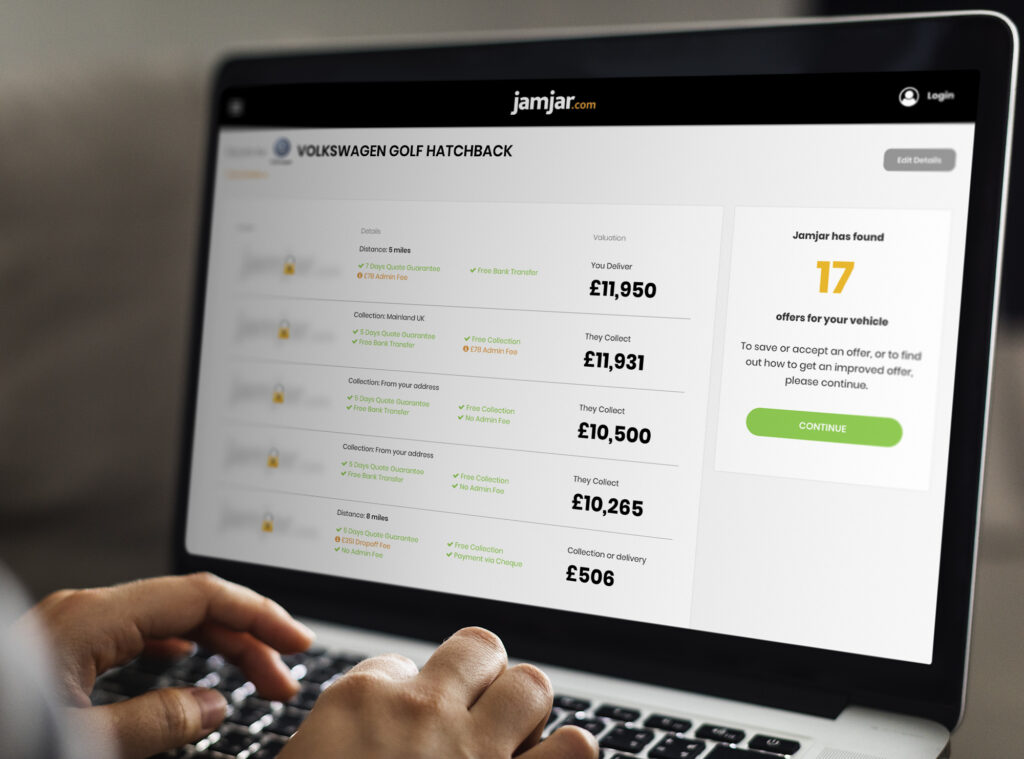 The ad's launch marks the next step in the company's growth since its launch in 1997. Tired of seeing how difficult it was for people to find the right deal, the company created the solution, which was a fully-transparent online car buyer comparison service that requires no personal details!
Jamjar is committed to helping you find the best purchase offer and collection service for your vehicle. They make it easy for you to decide and have much more experience compared to large corporate competitors.
Its powerful results engine will show you all comparative purchase offers, from a number of associated buyers, as well as all their numerous differing administration fees, bank charges, payment times and collection or drop-off terms in one simple and easy to understand results page.
Jamar will value any vehicle no matter what its state or condition so why not get in touch today? Simply enter your registration number and watch the best offers roll in from car valuation experts around the country, it's as easy as that.
You're in control of which offer you choose to select. Once you have selected the best offer for you, just enter your details and the chosen online car buying service will do the rest. Your buyer will contact you within three working hours – you don't need to do anything other than pick your offer and relax.
Your chosen buyer will just need to confirm documents, such as your V5 and any other agreed paperwork. Once complete, your car will then be viewed and paid for as arranged. You can be sure that Jamjar will help you get a great price and it's just as easy as trading your vehicle in.