It was stunning back then and it's still just as beautiful now. The Mazda MX-5, which first went on sale back in 1989, has transformed the UK's roadster market.
Traditionally, a front-engined, rear-wheel-drive, with sophisticated styling and an impressive chassis, it's been fiddled with again this year as its upgrade focuses on making things even better!
In its purest form, the MX-5 has been and probably always will be blessed with a wonderful gearshift and amazing steering. Let's take a look at the firm's most popular sports car and how it has transformed over the years since its second generation to its upgraded 2020 version.
Mazda MX-5 2003
The Mazda MX-5 second-generation had an affordable price tag and was great for just pure driving fun. Back then it was quite difficult to find anything that came close to this as it covered everything. With no affordable roadster on the market either, this had a great future ahead.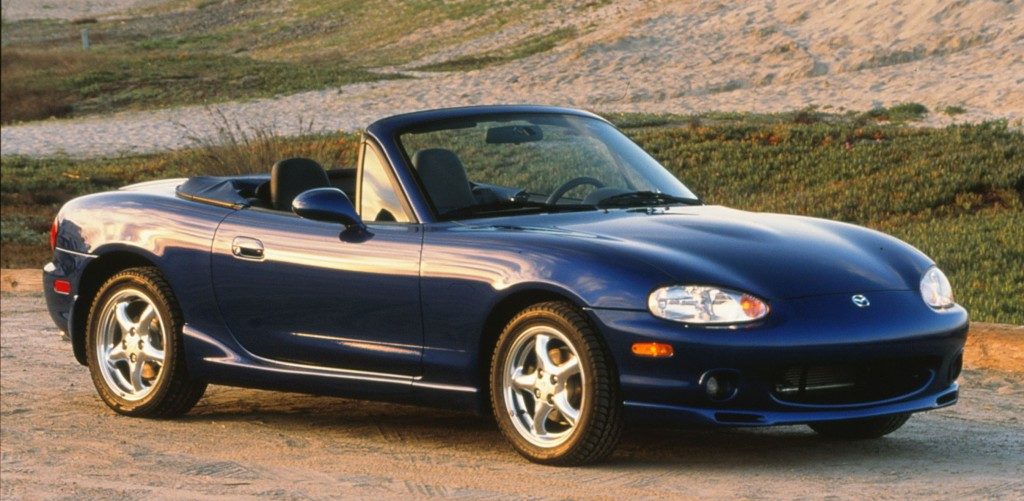 When it first arrived, it was quite arguably the most affordable most written about sports car in Britain. With not too many modern sports cars around at this time, the Mazda MX-5 very quickly achieved a great level of success and established itself as one of the biggest selling sports cars.
Although it had a dated cabin and a basic look about it, there's no doubt about it that this was a charming model with features that everyone was attracted to. Featuring a fuel empty light, ISOFIX front passenger child seat anchorings, as well as electric heated mirrors and a power aerial, this beauty very quickly became a model that everybody craved.
Despite the increasing amount of features that the second-generation now had to offer, the truth is that it still remained one of the most simplistic and traditional roadsters that Mazda had to offer at that time. There was just enough room to cope with some luggage if you fancied a weekend away and was overall a generally easy car to live with, reliable and very practical.
So how could Mazda improve?
Mazda MX-5 2020
Just when you think the Mazda MX-5 couldn't get any better, we were hit with the new 2020 updated version.
Still to this day, the Mazda MX-5 is charming to drive but these days it also comes equipped with a real premium feel and Nappa leather, which is also reflected in the car's luxurious price tag at nearly £30,000!
With value no longer on Mazda's side, if you're looking for an improved version that features multi-spoke BSS wheels and lane departure warning, be prepared to spend a bit more if you want your luxury fix.
Mechanically, the MX-5 2020 doesn't move on from its predecessors, which means that the 2.0-litre car remains at 181bhp and 205Nm, with manual models having a front strut brace for additional front end rigidity.
The Mazda MX-5 has an unbelievable reputation and we presume that it will continue to do so for a very long time yet. It is without a doubt one of the most fun cars to be on sale within the UK and when you get behind the wheel, it won't take you long to realise this too.
Some say that Mazda has taken it to the next level once again, with its only flaw in Mazda's plan being the ever-increasing retail price. However, if you're looking for a special edition, then you should be prepared to shell out on one.
If you're looking to sell a Mazda or any other car for that matter, we've got you covered. Just head over to our car selling service page and we'll help you sell your car for free, or enter your reg below.