So you want to know what the most expensive car is in the world? Well, there's no need to look any further as we're about to fill you in and tell you all about the most expensive luxury car in the world.
Let's get straight down to business as we're sure your dying to know what the answer is.
The Bugatti La Voiture Noire, also known as the Black Car, is the world's most expensive car built to date, with a price tag of $18.9 million!
This French car manufacturer decided that their luxury prototype supercar did need no flashy introduction and that unveiling it in 2019 at the Geneva Motor Show was enough to show that this was the car that was going to dominate the car industry.
In terms of the history behind this classic, the La Voiture Noire is dedicated to the memory of a beloved car that Jean Bugatti, son of Ettore Bugatti, the founder, had lost in World War II. This beauty was unleashed to pay tribute to the history of the successful brand, as well as to the 110th anniversary of its founder in 1909.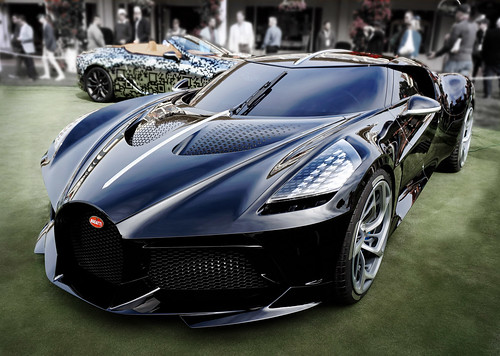 As you can see, this stunning La Voiture Noire, has been handcrafted and models its carbon fibre body, as a way of celebration of the company's distinctive design history. Designed by Salome Etienne, it is inspired by its predecessors and is dominated by the trademark of a horseshoe-shaped Bugatti grill.
According to the manufacturer, everything you see on the Bugatti La Voiture Noire has been handcrafted within each and every carbon fibre on its body, and what a beautiful masterpiece it is.
In terms of performance, this beauty has got the same engine as both the Chiron and the Divo, an 8.0-litre, w16 quad-turbo, petrol engine that boasts an incredible 1,600 Nm of peak torque. Just sounds amazing, doesn't it? The fun doesn't stop there either, it also features a sharp black finished diffuser. Like seriously, the exhaust on this just gets better and the performance is just insane.
Let's not even go there with speed. Coming in at 420 Kmph, this hypercar can accelerate from 0 to 100 mph in just 2.4 seconds! Although the Noire doesn't like to particularly focus on promoting its speed, we couldn't mention this.
The most expensive car in the world has well and truly engraved in automotive history. If you fancy getting rid of your current car because you want to treat yourself to something similar to this beautiful Bugatti, then we can help you to get rid of it.
Simply enter your registration number into our free online valuation tool and we'll get right back to you with your hundreds of offers.