Feeling nervous about driving on the motorway for the first time? Don't worry, you're not the only one. Truth is though, motorways are actually the safest roads to drive on would you believe or not.
This is what you need to do if you're driving on the motorway for the first time:
1. Put your toe down
Many people say that joining the motorway is the hardest part, but this is debatable. Basically, all you need to do is build up your speed on the slip road and indicate to the right, making all your observations like you normally would. It's not much different than a dual carriageway really, so if you've done plenty of those, you'll be fine. Fact is, those already on the motorway will have to let you on eventually. So, even though you don't have right of way, you'll be able to get on.
2. Need for speed
Motorways have the highest speed limit at 70mph, fact. When you get onto the motorway keep an eye out just in case the speed limit changes. This can happen but as long as you see the signs in plenty of time, you should help to keep the traffic flowing. Whatever you do, don't break the speed limit and stay in the right lane for your speed. If you stick to these rules and let people to safely overtake you, you'll be laughing.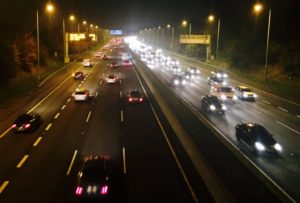 3. It's not all about overtaking
Remember your theory? Remember that question, "Which lane should you travel in on the motorway if you're not overtaking"? Yes, that's right its the left-hand lane. The trick is to keep left unless you're overtaking slower traffic, it's as simple as that really. Top tip! Keep an eye out for lorries changing lanes – they have bigger blind spots so keep a safe distance. You don't realise how important your blind spots are until you get on the motorway.
4. Move over to the hard shoulder
We always avoid the hard shoulder but if the sign says to use it then why not. Although the hard shoulder is only for emergencies, did you know that it actually does have a speed limit? It's common sense really if you think about it, the motorway is 70mph so if you breakdown you need to build your speed back up and rejoin the traffic. But if you're on a smart motorway, note the speed limit as the speed limit could vary.
Finally, just remember to keep a safe distance between you and the car in front (the two-second rule is always a good one) and if just for a second you begin to feel a little bit tired, take a break. If you've never felt tired before when driving then you definitely will be while you're driving on the motorway.
There's a first time for everything, whether this is driving on the motorway or selling your car. Selling your car for the first time can be scary too. You might not have a clue what to do or where's the best place to go. That's ok though, you don't need to go anywhere, just stay right there. You can find out how much your car is worth right here, right now by just simply entering your reg number and nothing else. Just head over to our homepage we'll give you a value for free.