Once your car is more than 3 years old, the law requires an MOT to be carried out annually. The test thoroughly examines the road safety of the vehicle for yourself and other road users, as well as ensuring environmental standards.
This can cause a headache for drivers as they start to worry about the financial burden that may come with their car failing its MOT. Their fears are often proved right, as 40% of cars fail their MOT at the first attempt, according to the DVSA. While no one wants to find themself in this scenario it's a real possibility for many and it's important to understand what your options are in the event of an MOT failure. Jamjar's car scrapping guidance is here to help you understand those options and get you back driving as quickly as possible.
Finding out if your car has failed its MOT
If your car has just failed its MOT, you will be contacted by the test centre and upon your return, you'll be issued with a VT30 (Refusal of an MOT Test Certificate). This outlines your cars details, MOT test number and the reasoning for its failure. You should keep this document safe as it will be needed for the next steps.
Can I drive my car with a failed MOT?
Often the first question when learning your car has failed its MOT is whether it's legal to drive without a valid MOT certificate. The answer is often no – without an MOT certificate, your car insurance could be invalid.
If your car fails its MOT when the certificate has expired, there are two instances when you are permitted to drive your vehicle only:
To a test station for a pre-arranged MOT test.
To get it repaired after it has failed its MOT test.
Driving it in any other instances would be a criminal act.
If your car fails its MOT when the certificate is still live:
The exact date that you can take your car for its MOT test will be on your MOT certificate, it is normally up to a month before the current certificate expires.
If your car fails its MOT but your MOT certificate is within date, because the test was before the expiry date, then you can still legally drive your car after it fails up until the date on your current MOT certificate after which time it will be invalid.
It is worth noting, however, that the fact that your vehicle has failed its MOT means there are faults with the vehicle and although you have a valid certificate you could be breaking the law by knowingly using a vehicle with a fault on the road.
Therefore, although it could be legal we would strongly recommend that you limit the driving of a car that has failed its MOT until the repairs are sorted. Otherwise, you could be prosecuted by the police.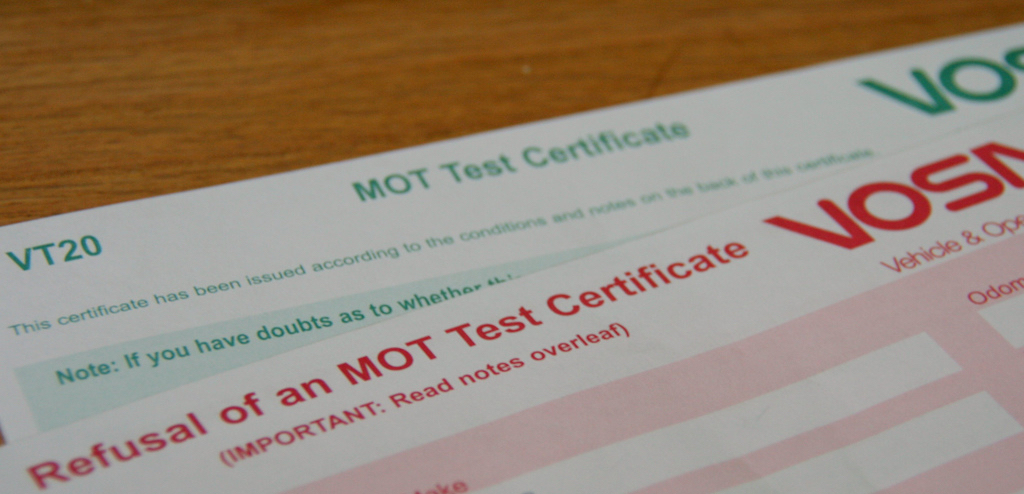 Next steps – getting a retest
For your car to be road legal again the issues listed on the VT30 certificate will need to be addressed with sufficient repairs made before your car can be retested. There are a few retest options depending on the nature of the failure, with some incurring additional testing fees.
Fix it there and then – Often the easiest solution: hire the same test centre used for the MOT to fix the issues that caused the failure, if they offer this service. The test centre has 10 working days to complete the repairs and conduct a partial retest, only testing the issues listed on the VT30 certificate.
Take it away to be fixed – You are within your rights to take your car away for repairs and bring it back to the original testing centre for a partial retest. If this is done within 1 working day then the retest is free. Between 2 and 10 working days after the initial test, you will be charged for a partial retest, usually half of the original testing cost.
Taking longer to get it repaired – After the 10 working day period when you bring your car back you will be charged for a full MOT.
Scrapping a car that has failed its test
If your car fails its MOT, repairs to get it road legal again can be costly. If the vehicle is old or worth less than the repairs needed to make it safe then another option could be to sell your car for scrap. Often overlooked as an option, selling your failed vehicles for scrap is an efficient and profitable resolution to an otherwise expensive problem.
Here at JamJar, the car buying comparison site, we source the best offers we can find for your make and model from buyers around the country and present you with the full details of any quote so that you can decide which works best for you. The collection is often included in the quote, saving you the cost or risk of transporting a car with no MOT.
Can I appeal a failed test?
You have the right to appeal a failed MOT If you feel the decision is wrong. We would always advocate discussing the reasons with the testing centre first, to rule out any miscommunication. In a situation when you still feel that your vehicle has been unfairly failed, there are steps you can take.
You have 14 working days from the original MOT test date to complete a 'Complaint about an MOT' form and send it to the DVSA.
Once received, an alternative appointment to retest your car will be arranged within five days. You will responsible for paying the full MOT fee again, however, if your appeal is successful you will be issued a full or partial refund.
It's important to note here that you are not permitted to carry out any repairs or modifications on the car while you wait for the retest, as this can cause the appeal process to be cancelled.