So have you decided to scrap your car, only to have turned the house upside down looking for the V5C logbook and come up short? It's all too common, and the threat of fines from the DVLA over all manner of car mishandlings is enough to scare anyone off. Fortunately, we're here to set the record straight on whether you need a V5C when you go to scrap your car.
Do I need the V5C (log book) to scrap my car or not?
By law, you do not need to have your V5C registration certificate (log book) for the vehicle you are looking to scrap.
However, it's much simpler to scrap your car if you've managed to retain it. You can still apply and get a new V5C logbook for £25 from the DVLA if you're looking for the most straightforward process.
Otherwise, to proceed with scrapping your car without a V5C certificate in place, there are a few things you will need to do to cover yourself if questions are asked. Also, you have a couple of options when deciding on how you want to handle the overall process. We break down how to successfully scrap your car without a V5C below.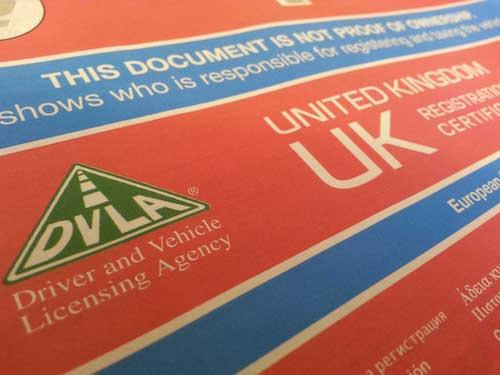 Scrap your car at an Authorised Treatment Facility (ATF)
This is a must. If you scrap your car at an unauthorised location, not only is it illegal, but you'll liable to face numerous fines – the V5 will be the least of your worries. Find one near you and arrange a convenient time to have your car scrapped. Once completed, you'll get a Certificate of Destruction sent to you within 7 days. Payment must be made via bank transfer or cheque (in England and Wales) – do not pay cash under any circumstances, as this is also illegal.
It's important to note that if your car is not roadworthy (i.e. SORNed, without MOT or insurance) then you'll need to arrange a collection from the car's location – you must not drive it to the scrapyard. Most ATFs are happy to arrange a collection, though you will lose some money in the process.
Inform the DVLA that the vehicle has been scrapped
Normally, you can do this online. Unfortunately, if you've chosen to scrap your car without a V5C, there's a little more red tape you have to get through. Once you've scrapped your car, you'll need to write and send a letter to the DVLA informing them of the sale, which has the following information inside:
Vehicle registration number
Make and model
The exact date of sale
Name and address of the scrapyard or insurance company
If you omit any information, the notification will not be accepted and you'll still be registered as the keeper of the vehicle. Needless to say, that's not the position you want to be in. Make sure to send the letter to the following address:
DVLA
Swansea
SA99 1BD
Providing you've done all of the above correctly, you should be home free. Our best advice is to be transparent at all times during the process; make sure to let the ATF know there is no logbook, and they should be able to further advise on how to properly de-register the vehicle.
Other considerations
There are a few additional things to keep in mind when scrapping your car:
Make sure you know if they're scrapping it or selling it on. A car that is scrapped will have a Certificate of Destruction associated with it, and the transaction must be made by bank transfer or cheque. A car that is sold on after repair will not produce a Certificate of Destruction and cash can be used as the transaction method. All of our associated buyers will give you a certificate if the car is scrapped.
If you want to keep your license plate, you must register to keep it before scrapping it. There are a few stipulations to this process, and it costs £80 to do, so be sure to check beforehand.
It's illegal to drive the car to the authorised treatment facility if the car isn't legally allowed on the road. You must arrange legal transportation of the vehicle.
Keep in mind that the process is a little different if you do have a V5; we've detailed the general process on how to scrap your car, so be sure to check that out.