Yes, it is possible to sell your car without a V5C. Although, if you're selling your car without the V5, potential buyers maybe a little skeptical. This is because this would usually be a sign that it is a stolen vehicle, says CarPlus and given that the police reported 48,400 vehicles as being stolen in the UK back in 2021, we can see why.
Dealers, online car buying services and potential buyers, may be willing to purchase a car without a valid vehicle logbook, but they'll still need to obtain a replacement log book regardless. Depending on your circumstances and whether you're buying or selling a car without V5, there are a couple of options available to you.
Jamjar's quick guide to the V5 takes you through the transfer of ownership process, including giving advice on what to do if you've lost your logbook but still want to sell your car.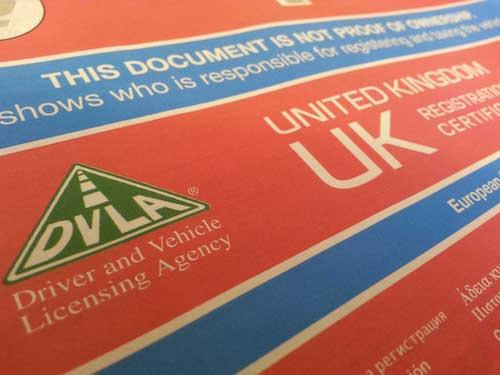 What is a V5C and why do I need one?
The V5C, also known as the registration document or vehicle logbook and commonly shortened to V5, is the document that confirms who the 'registered keeper' of a vehicle is. This means that this person is responsible for taxing and registering the vehicle. It essentially contains proof of ownership, proof of car registration, as well as specific vehicle details, such as:
The keeper's details; name and address
Chassis number
Colour and body shape of the car
Fuel
Engine size, and a lot more
The document can also be used to inform the DVLA if the vehicle is modified, scrapped, written off, a change of ownership, or a change of name and/or address of the registered keeper. When you sell your car, you'll need the V5C to be transferred to the new owner, or the new buyer won't be able to register for vehicle tax.
Transferring ownership of a vehicle with a V5C as a seller
It's handy to have a valid V5C certificate at the time you come to sell your car. If you do, then transferring ownership is simple if you use the government's online service to do so. Simply fill out the different fields the online system presents you with to complete the process.
As part of this process, you'll also have the option to enter the email address of the buyer. They don't have to provide you with this information, but entering it means that they'll get an email confirmation as soon as the change of ownership request has been processed. Whether or not they receive an email, they'll receive the new V5C logbook in the post, which can take up to five days after completing the online process, according to Carbuyer.
As an additional part of the sale, you, the registered keeper, should complete and tear off the V5C/2 section of the logbook, giving this slip to the new owner. This acts as proof of the transfer of ownership between the two parties.
It's important to note that these steps are the same for whoever is buying the vehicle, whether they're a private buyer, a dealer, or an online car-buying business like those that Jamjar source quotes from.
If you're unable to transfer ownership of your car online, you can still fill out the V5C log book by hand and send it to the DVLA by post.
Once you have sold your car without a V5C, until the V5C is issued, then the transfer of ownership is not officially complete.
Applying for a replacement V5C as a seller
Selling a car without V5? If you're looking to sell a car without a V5C we can highly recommend obtaining a replacement document as it can prove difficult to sell a car without the registration documents and can deter potential buyers.
Prospective buyers will expect you to have the vehicle documents and vehicle history in order, and having those in place ahead of time will certainly help you obtain a quicker and easier sale. So if you need a new logbook, the most straightforward solution is to apply for a replacement V5C while the vehicle is still in your possession, assuming you had a valid certificate at some point in your ownership, even if you've now lost it. The easiest way to do this is to apply by phone using this link.
If you apply this way, you should receive a new V5C within five days. You can also apply by post, but the new certificate can take up to six weeks to arrive if you choose this option. Whichever method you choose, you'll have to pay £25 for the replacement log book.
How to get a new certificate as a buyer
If you get to the point where you've agreed on a deal about selling your car without a V5 and the seller is happy to take the car, they won't be able to register it for tax without a log book. This means that once you've changed ownership, the new keeper of the vehicle will need to wait until they have their own new log book. So you can sell a vehicle without a log book, but you can't tax it without it.
So how does the prospective buyer go about getting themselves a replacement log book? The buyer would need to download and fill out a V62 form, which they'll have to send to the DVLA in the post.
Sending off the V62 costs £25 and you should receive the new V5C document within six weeks. If they haven't received the document in that time, you would need to contact the DVLA to follow it up. In the meantime, even though you would be the new owner, you wouldn't be able to drive the vehicle.
Having the buyer apply for registration like this should only ever be a last resort. If at all possible, you as the owner should apply for a new V5C in advance of selling your car to make sure that you've got all the right paperwork in place before the sale. You might find it much harder to sell if you don't. More information is available on the DVLA website here.
Other documents
To find out more about other documents it may be useful to have to hand if you're looking to sell, continue reading our guides. Or simply enter your vehicle registration number and find out how much you could sell your car for!