Gone are the days when you used to buy an ad in your local paper's classified section. Thanks to the internet, there's more than one way to skin a cat. You can sell your car in so many ways and here are just a few of the ways you can find your perfect buyer.
Word of mouth
Believe it or not, this is actually one of the best and easiest ways to sell your car. Whether you're taking your car to work or driving the kids to school ask around and see if anyone is in the market to buy a car, you never know who might surprise you and turn around and say yes!
On the plus side, you won't have to deal with any flakes either or any time wasters that you might find elsewhere when trying to sell. As long as your car is in mint condition prior to selling, you should boss a sale. There's nothing worse than your buyer coming back to you within a few weeks complaining about your car you sold to them and how it's running etc. If your interior is up to scratch and doesn't smell like dirty socks and stale food, you'll be smashing, there's not much more you can do than that.
Sell it privately
Pop a sale sign in your car window and you could park your car anywhere and watch it sell. If you don't want to brave the online markets then placing an ad in your local community could be the next best thing.
You could try your local corner shop, supermarket, coffee shop, or pub? Whichever floats your boat, or you could do all of them if you wanted to try your luck and see what offers you get.
Top tip though if you're wanting to rake in a bit extra cash for it, the internet. This is the place to be for top private sales. There are plenty of websites out there that are up for letting you put your car on there.
Here are just some of the few top cars selling websites that we'd recommend checking out:
Bring-a-trailer
This is a good option as it caters to big car enthusiasts, and it tends to deliver high sale prices too.
eBay
Cars and vans will benefit from a good eBay post, giving national exposure and bidding, you could do really well on here with an auction-style listing.
Auto Trader
Placing an ad on somewhere like Auto Trader is something that has just grown over the years and has become increasingly popular for car selling. Its sites like this tend to generate a huge amount of traffic and have thousands of cars for sale every day, it's become one of the most powerful car selling sites within the UK. Although finding the right buyer can be frustrating on here and take a long time, it's worth a shot.
Gumtree
Now, this has become one of the most popular destinations for people to sell, not only their cars but also anything else on there too. You can sell literally anything on there! Cars is actually one of its biggest areas on Gumtree, with plenty of cash buyers and people looking for a great deal, you should be sorted. It's also free to use and you don't have to worry about the cost of advertising too, which is a bonus!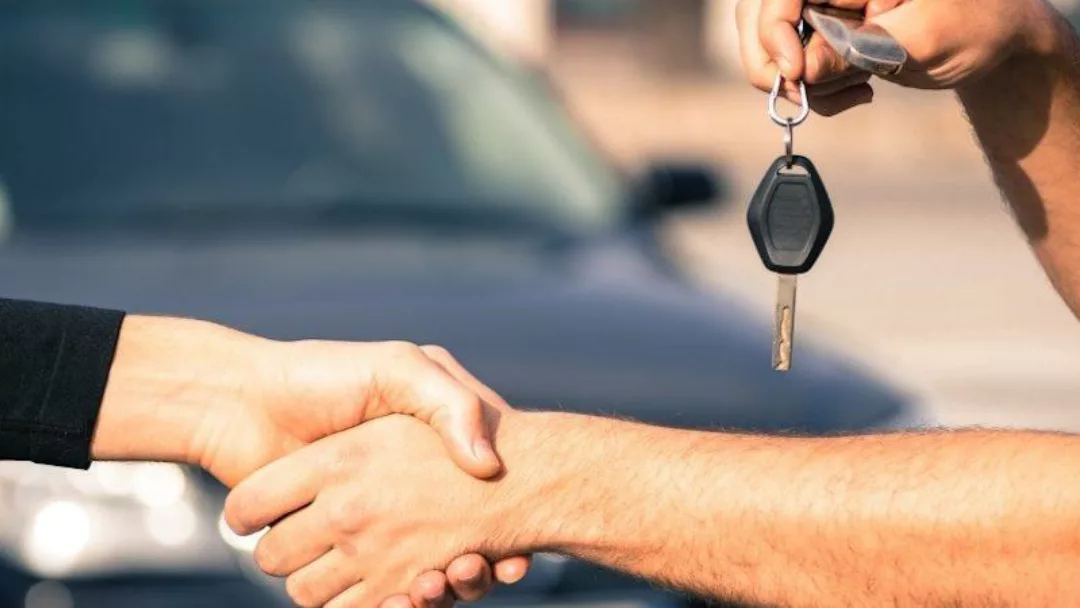 Trade-ins
Think of it like this, if you're going to buy another car anyway, maybe it's an idea to find out what your local dealer would offer you for the car to get rid of. That old saying, it doesn't hurt to ask comes to mind here. You might not think your car is worth a lot, but you never know until you ask.
The good thing about trade-ins too is that they reduce the hassle of all that face-to-face selling on the car market. No need for those appointments or dealing with people who might mess you around, you can sell your car, get a new one, and be over and done with it, it's as simple as that.
The only downside to a trade-in that we feel the need to mention is that you might not get nearly as much on a trade-in as you would in for example a private sale. If this doesn't bother you though and convenience is your top priority, then go for it.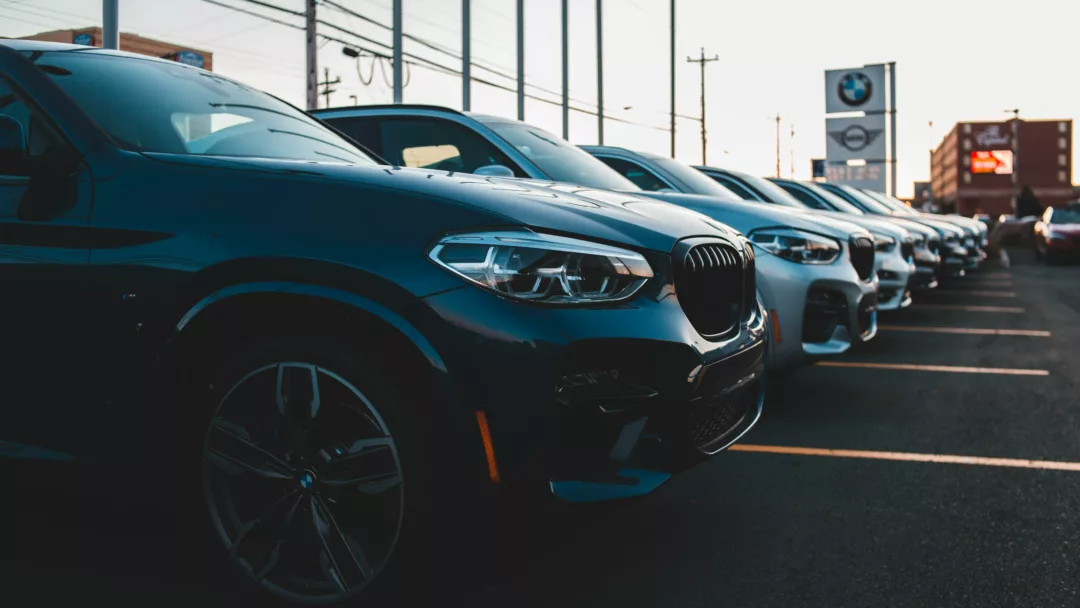 Selling to a dealership
A dealership is a great way to sell your car, just putting that one out there. Similar to a trade-in, you're not that likely to get as much from a dealership as you would from a private sale, but then again, it's fantastic for convenience and familiarity.
If you've got a dealer that's nearby, this is an easy option when looking to sell your car. If we could give you just one bit of advice when it comes to selling your car to a dealer it would be to bring your 'A game' to the negotiation party. If you've never sold your car to a dealer before, you'll quickly learn that they're all about making a profit, so they tend to know all the tricks of the trade, as you'd expect.
So long as you've got a good understand and estimate of your car's value beforehand, you should be able to bag yourself a good deal.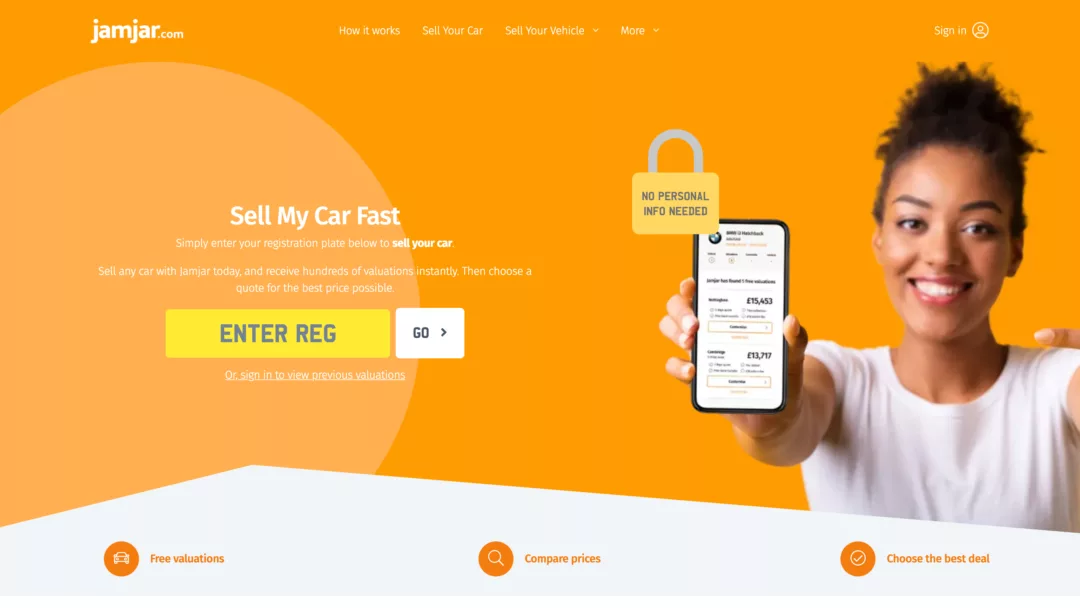 Instant online car buyer
Struggling for time? This is the ultimate way you can sell your car quickly. Probably the fastest way that you could sell your car, is by selling it through an online car buying comparison site.
The growth of online car buying companies over the past few years has exploded and we can't see any signs of it slowing down anytime soon. If you've never used one before, not even to just see how much your car is worth, you need to see just how simple it is.
All you need to do is enter your reg number, find out how much your car is worth, and arrange for either a collection or a drop-off. Before you know it you'll have the cash in your account.
Here at Jamjar, we work directly with some of the best UK car buyers to get you the price for your car that you deserve. Want to find out how much your car is worth and be on the road to selling it? Check out our online valuation tool to find out what you could be missing out on.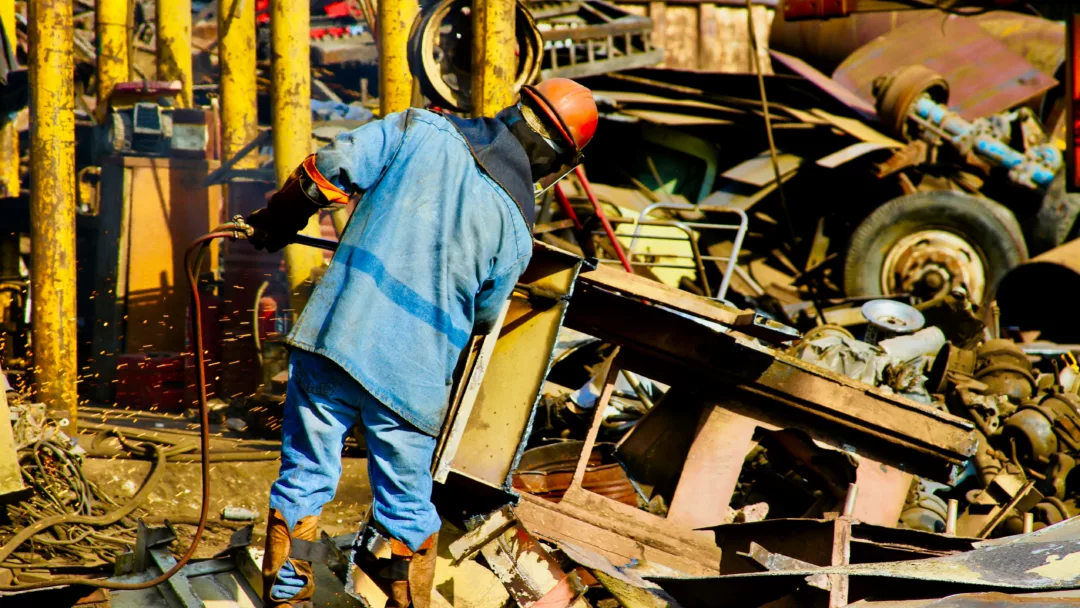 Sell your car for scrap
If none of the above floats your boat and you're thinking whether there is anyone else that might want to buy your car then how about this. You could sell your car for scrap. If your car is in good condition, then you could try and sell it at a scrapyard or to a scrap buyer. You might struggle to do this a bit more if your car is quite old or it's failed its MOT, then you might find that scrapping is probably going to be your best option. If you're looking into scrapping and think it might be a good idea for you, these are some of the ways you could go about it:
Car scrappage schemes
Scrappage schemes are growing on us and are great if your car is old and still working. The aim of these types of schemes is to get you to trade in older cars for newer, greener ones. How it works is you'll normally get the amount that your car is worth knocked off the price of a new car.
It's worth bearing in mind though that not every car is likely to get accepted as part of a scheme, especially if a car is unroadworthy, incredibly old, or just a piece of junk. If this turns out to be the case, then you could always just strip the car down yourself and sell it for parts. You might find that some bits sell quickly and others can take a bit longer, but you'll get there in the end.
Scrap car buying websites
We're pretty sure we all want to avoid any hassle and get rid of our car as quickly as possible. There are plenty of instant scrap buyers out there who would be more than happy to help you get rid of your car quickly, us for starters.
We can give you a smashing price for your scrap car and either collect the car or you can drop it off. If you want to explore selling your car with Jamar and want to find a scrap buyer quickly that you can trust, our free online valuation tool is just what you need.
Whether you're looking for a quick way to sell your car or you're more interested in getting the best price possible, you're in the right place. You can go through the hassle of selling your car on Gumtree or pay to sell it on Autotrader, but if you'd like to sell your car free of charge and get the best price possible, enter your reg below and find out how much it's worth… You don't even have to give us your name or phone number, just enter your car's details and find out how much it's worth.