At Jamjar.com the process of selling your car has never been easier. Whether you're looking to sell, scrap or get an instant valuation for your car, we can help you find out what your car's really worth.
With our comparison site, we can help you to find a car buyer online by advertising your car for FREE to our network of hundreds of online car buyers.
We like to do things differently.
Our comparison site allows you to compare offers for your car and can provide you with the best online car valuations. What's more, is that you're able to get a free valuation without you, having to enter any of your personal or private information!
Get your FREE valuation
Getting a valuation for your car is one thing, but getting a free valuation is just something else. We can promise to give you the best set of valuation offers. Not only this, but we can also promise you up to date online car valuations without the added pressure to sell.
For sellers like yourself, we believe that the best place where you can get a free car valuation without any hassle is from an online car comparison site like us. We can show you what it means to have all the best prices and the most convenient service all in one place.
Once you've tested it out for yourself and you've seen what we can do for you, you'll have the option of whether you want to take your free valuation further. If so and you're serious about selling your car, you can pursue this with the UK's best online car buyers who will be ready and waiting to give you the most convenient service.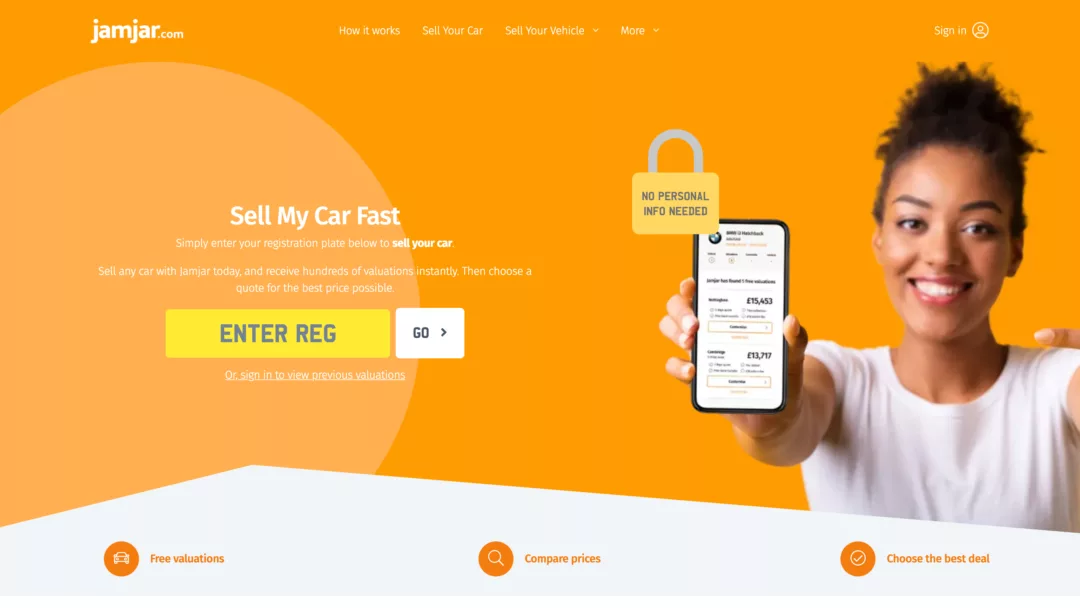 What you'll need for a FREE valuation
It's quite simple. To complete a free car valuation online, you'll just need these pieces of information to hand:
1. Your registration number
2. The current mileage
3. The service history
4. MOT status
5. The collection postcode
We don't even need any information about the condition of your car. At this point, it's all about getting you what you want, an instant valuation for your car for free and without having to enter any of your personal information.
Once you've given us everything we need all you need to do is sit back and watch the best offers roll in from the best used online car buying sites throughout the UK.
Start your FREE valuation
If you want multiple quotes for your car within seconds, without having to enter any of your personal details, then you've come to the right place.
You can find out how much your car is worth in various ways but no one does it quite like us.
We like to get straight to the point to find you the value that's perfect for you.
There's none of the usual hassle with us that you would normally get when trying to retrieve a value for your car.
We just want you to be in control and enjoy finding out how much your car is worth the hassle-free way.