Where do we even start with a Certificate of Destruction?
What is a Certificate of Destruction?
A Certificate of Destruction (CoD) is a document that is issued by the DVLA to an Authorised Treatment Facility (ATF), which is where your car is scrapped. This CoD basically proves that a car has been disposed of correctly and that it's no longer on the road. It sounds quite sad that your car has reached the end of life but it is needed at the end of the day and is required by law. It also provides proof for the driver that they're no longer responsible for the car.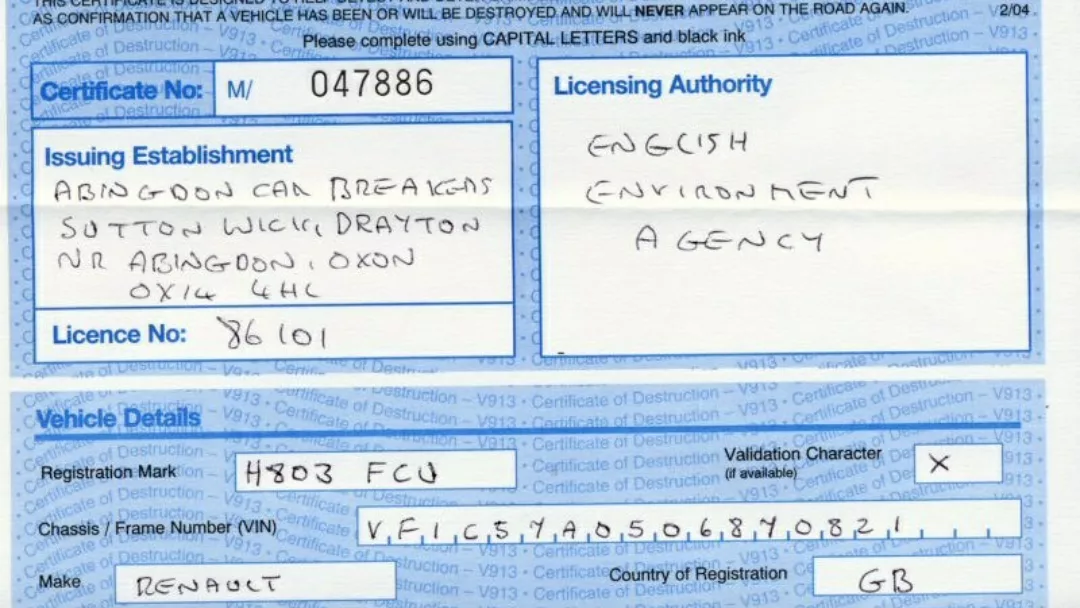 Why is the certificate important?
Lots of reasons! The Certificate of Destruction essentially transfers the car to a new owner and releases you from having any association with the car. To put it simply, the certificate proves that your old car:
Is officially off the road
Has been processed in accordance with the law
Is no longer registered to you
When you scrap your car, as long as your chosen scrap buyer is legit, you'll be provided with the certificate as part of their service. You just don't realise how important this certificate is until you actually get it in your hand. It's the final stage of transferring ownership, the final bit of the puzzle that will release you from your car.
How will you receive your certificate?
You'll be pleased to know that you can relax when scrapping your car with Jamar. We do all of the hard work for you and have even ensured that all of our scrap buyers within our scrap car network have the status of ATF.
When you scrap your car with us, you will need to fill out a little bit of paperwork, nothing to heavy mind, just your V5C/3. You'll find there is a section that needs to be completed in exchange for a CoD. Once completed, pop it in the post box and send it off to the DVLA.
If you need to notify the DVLA, but find that you haven't got the certificate, you will just need to pop them a note in writing instead of telling them that you no longer own the car.
Let's say the DVLA has received your completed V5C, they'll make a note of this and also refund any unused road tax back to you as well, which is just lovely.
Thinking of recycling your car? If you're looking for somewhere to scrap then the great news is that you're in the right place. Simply enter your reg number below and we'll get back to you with a list of offers from our most trusted buyers within the scrap car network. It's as easy as that. It's the quickest and easiest way of finding out how much your scrap car is worth.