From the Batmobile to Mr Bean's Mini, to the Only Fools and Horses Yellow Three Wheeler van, there are so many famous cars from our favourite TV shows that will forever have a place in our hearts.
Here are just a few of our all-time favourites that still get our hearts racing:
1. Batmobile
If you don't remember the iconic Batmobile, which was brought to life back in 1966, then you need to go back and remind yourself of this beauty. Designed to keep Batman safe, the Batmobile was a beast and was made to deliver an epic performance. Featuring its aluminium bat symbols and a steering wheel designed to resemble an aeroplane yoke, the Batmobile was one of a kind with its "U" shape. Let's not forget that this hidden gem also included some hefty gadgets too, like the Bat-ray, mobile tracking scope, emergency tyre inflator, and the batphone; all very high-tech pieces for the 1960s.
2. Mr Bean
If we saw Mr Bean's car down the street, we'd be able to spot it a mile away! You can't miss that famous green 77′ Leyland Mini, and it's definitely up there on our list of favourite famous cars. Rowan Atkinson is a legend, but you don't need us to tell you that, and never mind his Minis. Bean and his Minis have appeared over and over on our TV screens and we just can't get enough of them.
The famous Mini has got Mr Bean through some tough times and it's proven to be well equipped to cope with Bean's needs. For example, thanks to the innovative security measure, Bean has been able to use bolt-latch and padlock to remove the steering wheel rather than the key and has also managed to stop and armchair to the roof of the car and drive the car from that perch using just a rope, pails and a mop! If that's not a famous Bean moment in itself, then we don't know what is!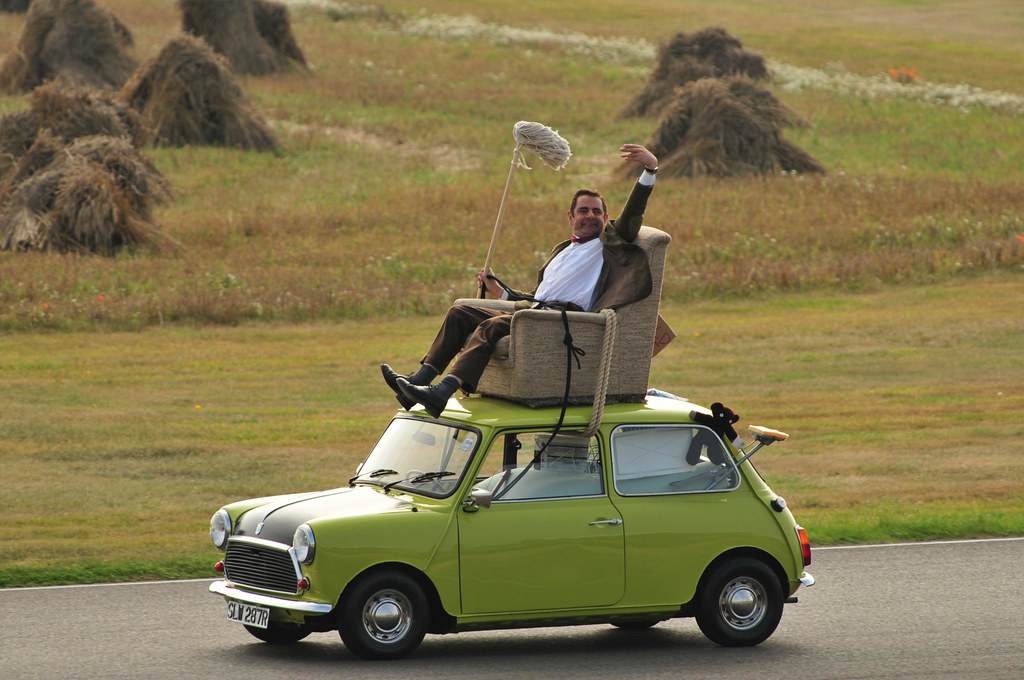 3. The A-Team
What's black, metallic grey with red stripes and black and red turbine mag wheels? The famous GMC Vandura van! With its rooftop spoiler and stunning GMC logo on the front grille, the GMC Vandura van has bags of style just like Mr T with his beefy gold chains. Looking from the outside you'd expect even bigger things on the inside and that you could rely on. With its shag carpet, custom gun-storage, and a rotating array of tools, the GMC was top dog and it even performed magic shows on the side. One minute the sunroof was there, the next it was gone.
4. The Mystery Machine
As with solving any mystery, some sort of a machine is always going to be needed, preferably the Mystery Machine if you can get your hands on it. A mode of transportation is always key, so thanks to Daphne's rich father, the Scooby gang was sorted and who doesn't want psychedelic colours on the outside of the van when they're trying to solve a mystery?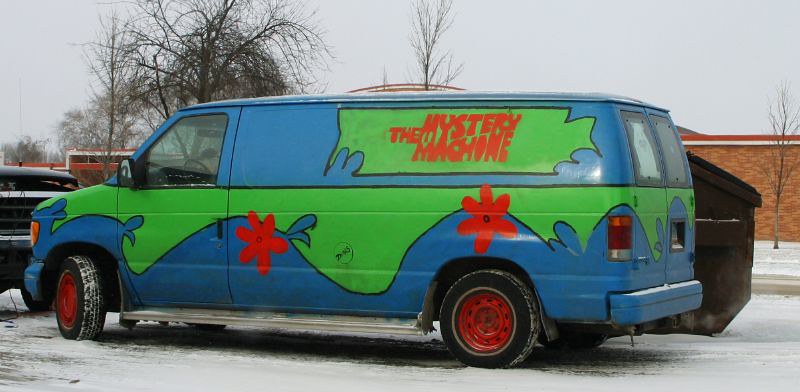 5. The Reliant Regal
When you close your eyes and think of a three-wheeled car, what do you see? Maybe we need to be a bit more specific and say a yellowed three-wheeler? If you're a true Only Fools and Horses fan then you'll know exactly what we're on about. The sexiest looking tricycle you ever did see, this lightweight could even be driven on a motorcycle licence! Although the show itself went on to receive multiple awards, we think the Regal had a part to play in this too in getting Del Boy from A to B and playing a key role in helping them in their attempt to get rich.
If you were going to get rid of your car and trade it in for one of these legends, we know which one we'd go for! Do you? Mr Bean all the way. If you fancy following in our footsteps and you want to sell your car to use the cash to put towards some fancy new wheels, get your free online valuation here. You'll be able to see how much your car is worth within seconds and all we need is your reg number to get started.