"Did you know that we can help you get your hands on your favourite vehicles?". I asked the car dealer I was chatting to. "Are you ready to cherry-pick the best stock?"
If you want to avoid the hassle of auction houses and commission fees, here's why you should consider becoming a Jamjar.com Associate:
1. We don't take customers personal details
Yes, that's right. We don't need them, and we won't ask for them until customers want to offer it to us. Until they want to take the process further, until they actually want to sell their vehicle.
I mean, customers don't even have to give us their name, it doesn't get much better than that does it.
This means that you will receive the highest quality lead information that you won't find anywhere else. You can receive valuable customer details from those who are actively seeking and who are eager to sell their vehicle right this minute.
"Don't waste your time by inputting your personal details"
2. We understand that your time is precious
By spending time purely on vehicles whose owners are ready to sell, means that you will not be using up valuable time and cost.
We know that your time is very valuable, which is why we can maximise your efforts on the vehicles that are ready to be sold now.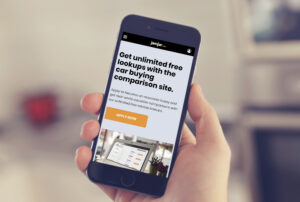 3. We only provide you with personal and vehicle information at the exact time a customer wishes to sell
By becoming an Associate of Jamjar.com you could reap all of the benefits.
What do we mean by benefits?
You won't have to pay large auction house commission fees for starters. You can buy directly from vehicle owners at exactly the time that they are ready to sell. They will make contact with you and when they do, you can then concentrate on completing the purchasing process for your favourite vehicle stock.
It's a win-win all round really. The vehicle owner is able to get a higher price thanks to being able to sell directly to you and you're able to get the vehicle you want whether this is for your own use or for your own stock. We have it all right here.
"Massive benefits for our Partners"
4. You're in control
Nothing else will give you the same level of control and convenience in one place.
So not only are you able to buy your favourite vehicle stock directly from the general public, but you're also in control of everything, how amazing is that!
From sorting out the paperwork to delivery and payment methods, you have the power.
5. We have the most cost-effective method of purchasing the stock you need that's available anywhere
You only want to pick your stock when its ripe and that's why we are here.
Our costs are minimal, and we just simply won't charge you for any offer that you make until the owner has indicated that they actually wish to sell their vehicle.
You can rest assured that the vehicle owner's information that is provided to you has been fully verified for telephone number, email address and postcode. This means that its trustworthy, reliable and that they are ready to sell.
Above all we want you to have the best information that's legitimate and worthy of you providing a valuation. Don't waste your time and money by spending it auction houses. And don't think that you'll find a smoother buying process.
Andrew King is the Founder and Managing Director of Jamjar.com, the UK's original car buying comparison service. Jamjar.com has been helping people find the right deal for their vehicles since 1997 and have served over 1 million happy customers. Apply today and become an Associate of the most trustworthy online car comparison service.