You might be electric vehicle ready, but the UK might not be. With new charge points being added daily in places within the UK, is this enough to keep our electric cars charged? So, here is the thing, there are so many more chargers around the place than people probably know about.
If you are out and about and need to fill up, Google Maps is always on hand to let you know where you can give your car a drink. Sadly, our electric charging points aren't as clear with their fancy signs letting everybody know that they're there, but if you look hard enough, you'll find one.
How many electric vehicles are there in the UK?
Over the years there has been a dramatic increase in the number of people using electric vehicles, which has resulted in an increase in the number of electric charging points around the UK. If we are talking figures, let's take a look at this chart below from Zap-Map, which shows that the profile of new registrations of electric vehicles in the UK since 2021 has increased and currently stands at a whopping 237,549!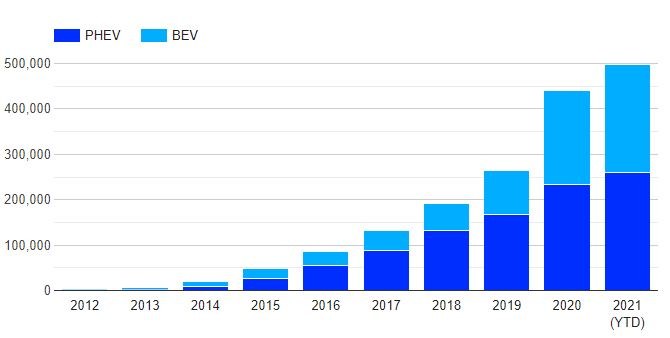 This chart shows us as clear as day that as of the end of March 2021, there were more plug-in hybrid electric vehicles (PHEV) on the road compared to the number of battery electric vehicles (BEV). Last year, was more than a tough year but electric vehicles, it saw the biggest increase to date in the number of registrations and a 66% increase from 2019. We don't know about you but with the impact of the pandemic, we would never have guessed that this would have happened.
How many charging points are out there?
Now that we know what the current situation is with the number of electric vehicles on the road, do we know exactly how many charging points there are in the UK and whether there is enough? If not, then looks like we will be stranded. Just kidding, these are the exact figures in terms of how many are currently in the UK:

There are exactly 14875 places around the UK that currently have a public charging point installed and the number of devices at these locations is 23269. Great numbers these, aren't they? There are also 40078 connectors within these devices and over the past 30 days, there have been 738 new devices added to Zap-Map's database, which takes the number to 1144 new connectors.
Will I be able to charge my electric car?
If you're sat there debating whether or not to take the plunge and get yourself an electric car because you're worried you might not find a charger out there, there is plenty.
Whether you're looking for a slow, fast, or rapid charge, you'll be able to find one out there. The best thing to do would be to find a charging point that has a minimum capacity of around 32 Amps and a good charging time of around 5-7 hours and you're sorted.
If you need help purchasing yourself an electric car and want to get some cash for your old car first, then this is the place to be. You can find out how much your car is worth in less than 30 seconds flat thanks to our online car valuation tool. Fancy giving it a try? Enter your reg number now and get your free car quote, you could even sell it through Jamjar using our sell your car service.