At Jamjar.com the process of selling your car is a walk in the park, honest. It's never been easier to sell your car than it is with us today. It doesn't matter whether you're looking to sell, scrap, or just get a price to find out how much your car is worth, we've got you covered.
With our comparison site, what you see is what you get. The price you receive once you've entered in your reg number is what you'll get if you choose to accept. Let's face it, most of us are here for that figure at the end of the day and a smooth selling process is a bonus! You're in the driving seat from start to finish, all we're here to do is to cut out the middleman and find you a car buyer so that you can get rid of your car.
What do we do, I hear you ask? Simply advertise your car for you for FREE to our network of hundreds of online car buyers. It works a treat for both you and them and you both come out on top, what's not to love about that?
Oh, and did we mention that we like to do things a bit differently around here too.
Selling your car with Jamjar has never been quicker, in fact, it's probably the fastest way that you could sell your car these days, by selling it through our online car buying comparison service.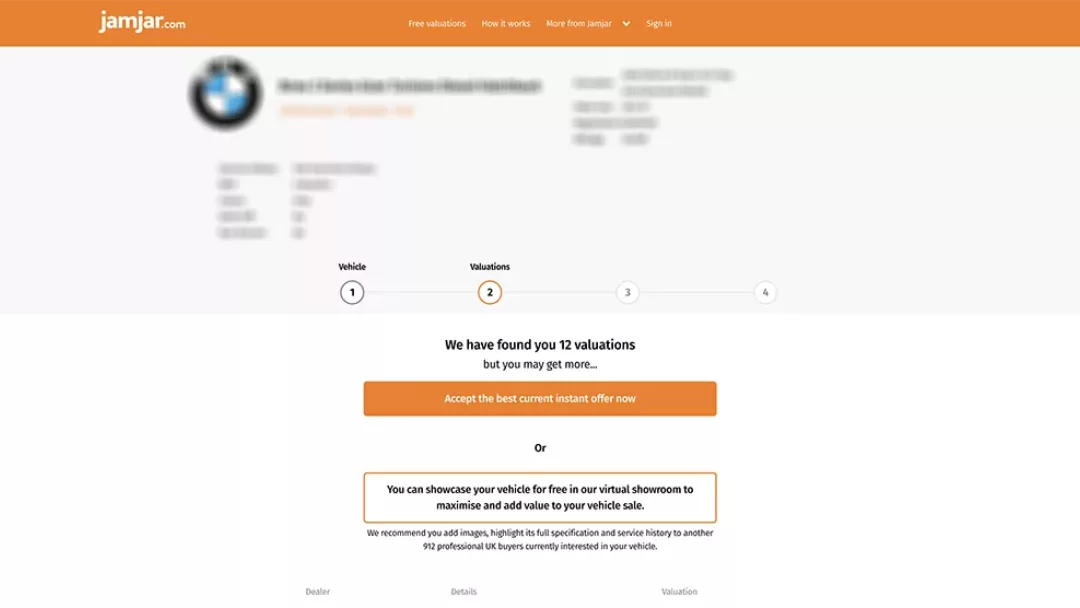 How does it work?
All you need to do is enter your reg number, find out how much your car is worth, and we'll do the rest for you. We can either arrange for a collection or a drop-off, whichever is easier for you and before you know it, you'll have the cash in your account in no time.
The great thing about the valuation process too, is that you're able to get a free valuation without having to enter a single piece of your personal information! How amazing is that? You can compare offers for your car and view the best online car valuations around, and you get to keep your name, number, and email all to yourself. Try it for yourself and then you'll see what we're talking about.
Our promise to you is that we can provide you with the best set of offers for your car and you don't even have to go any further if you don't want to. With no added pressure to sell, you're completely in control of your offers and what you choose to do with them.
This is the best place that you could possibly be if you're looking for a free car valuation without any hassle. We're unique and we know exactly how to run things so that they are as smooth as possible for you when selling your car. We know what it means to have all the best prices and convenience in one place, you'll be amazed, that's for sure.
As a seller, once you've tested it and tried it for yourself, you'll be able to see exactly what Jamjar can do for you. If you're serious about selling your car, this is the place to be.
What you'll need for a FREE valuation
To get a free online car valuation with Jamjar, this is what you need:
Your reg number
Your current mileage
Your service history
MOT status
So long as you've got all this, we don't need any further information, it's as simple as that. We're all about getting you what you want, and if that's a free car valuation with no personal information being entered, that's what it will be.
Once you've given us that information, we'll get to work and you can just sit back, let your screen do its thing while we're working in the background to get you the best offers for your car.
Why not head over to our online valuation tool and have a peek at what you could be missing out on? Within seconds you'll be hit with quotes for your car as you've never seen before. We like to get straight to the point and help you to find the value for your car that's perfect for you. One of our trusted dealers might just buy your car today.
No hassle, just quick, easy, and convenient. We want you to be in control and discover a hassle-free way of selling your car.