The Nissan Skyline is on every car lovers' bucket list and is Japan's greatest performance car, which has been scaring supercars for over 52 years now. It's legendary and no doubt you've probably dreamed about owning one if you don't already. The Skyline GT-R R32, R33, and R34 are all up there in terms of technology and performance. Also known as 'Godzilla' the Skyline is a one-of-a-kind supercar.
Prepare yourself as we reminisce the formidable beast.
A brief history of the Nissan Skyline
First introduced in 1957, the Skyline was originally built by Japan's Prince Motor Company. Production was great and lasted up until 1967 when Prince and Nissan merged. It was then that the Skyline began to evolve into the sexy sportscar that we all know and love today, the most recognised and influential predecessor to the GT-R.
Legend Shinichiro Sakurai was a key play for Prince, as a chassis engineer, he was closely involved in the development of the original Prince Skyline. The first series of cars were powered by a 60hp OHV in-line four-cylinder engine and made in four-door sedan and five-door station wagons, but Prince wanted more, so it got to work on creating its own race beating car.
For those who didn't know, Japanese supercars are known to be designed to improve the weakness of the more established models. In terms of the Nissan Skyline, the GT-R was designed with machinery in mind and so that it could overtake the Porsche 959. All in all, it turned out that the GT-R did even better than that and exceeded everybody's expectations.
The GT-R eventually became the car of everyone's dreams and the fact that there was only a limited supply, made it even more attractive.
The first generation Skyline
You can guarantee that you won't find another motor company who's as dedicated to developing their car technology as Prince Motor Company. So when Skyline finally branched off and became Nissan in 1969, the first performance Skyline was born and unveiled at the Tokyo Motor Show. It was still the same old Skyline, but it now boasted an inline-six engine, pretty impressive for back then, ay?
The Skyline was a touring car, one like no other as it relied on a four-valve Dual Overhead Cam engine and independent suspension for its smooth handling. The first two-door version stepped on the scene in 1970 and it seemed to go down pretty well until a global crisis left the Skyline sitting on the shelf for a while.
The evolution of the GT-R
The GT-R is among the fastest accelerating cars in the world. If that doesn't tickle your fancy then we don't know what will. It gets better. Did you know that it can reach 100kmph in 2.8 seconds, its on par with the Porsche 911 and the Lamborghini Aventador. Imagine, what a sight for sore eyes this would be if you saw it passing you in the street!
After competing in the Japanese Grand Prix and coming second, the GT-R then went on to win the Japanese Touring Car Championship (jTCC), not once, not twice, but only twenty times in a row! It set the record which is still yet to be beaten.
The GT-R had been through many phases but it wasn't until 1989 that the real precursor to the GT-R was introduced. The famous R32 Skyline wasn't sold in America, but the Japanese Domestic Market model was. Even a stripped-down version of the R32 was still able to perform for us just like it did when it entered the Japanese Touring Car Championship in 1989. It managed to win every single race it started, 29 races in a row. It just proved that the R32 was born to be on a race track.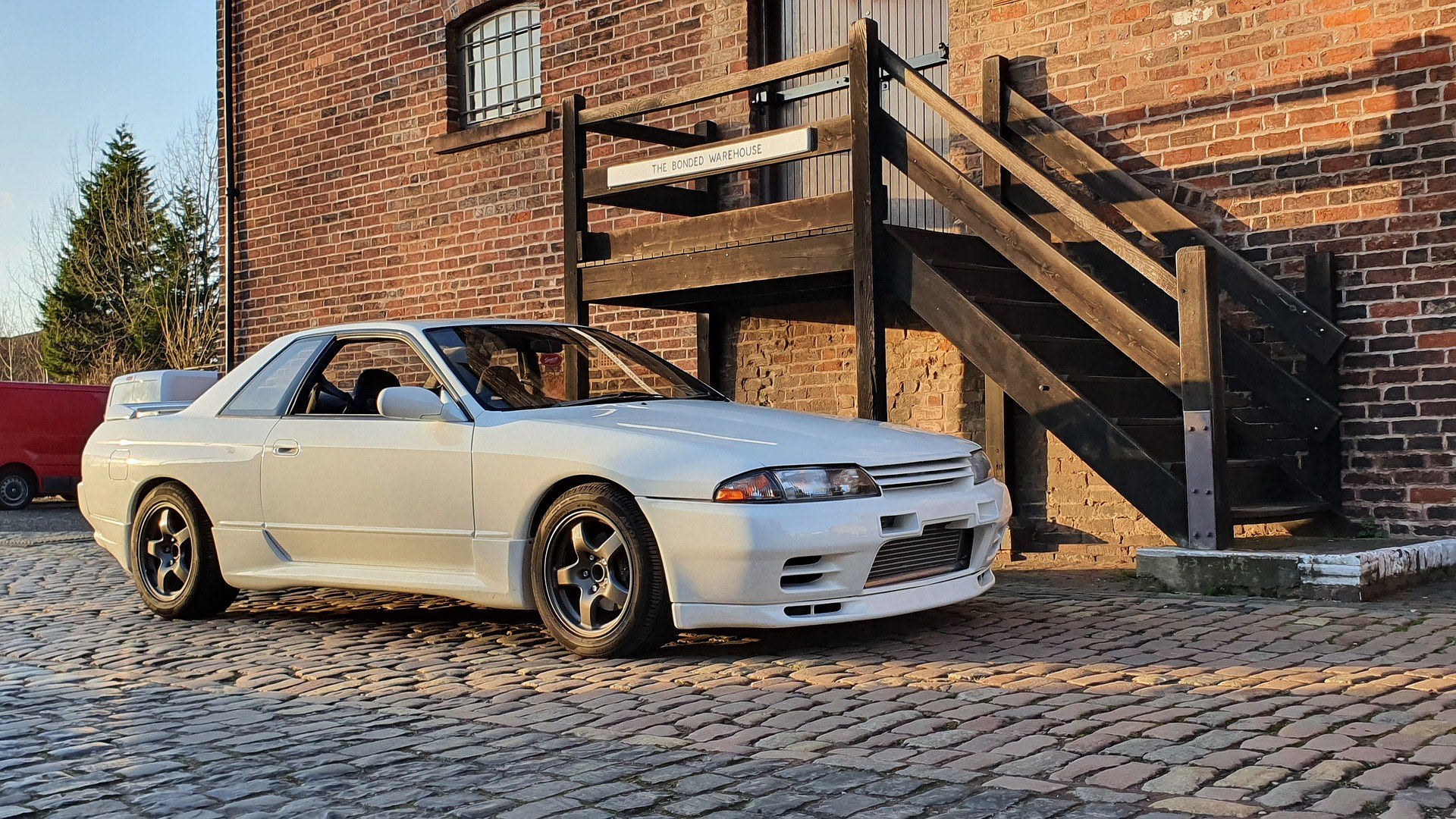 The GT-R R32 didn't stop there and also achieved good results in the Australian Touring Car Championship. Later on, the R31 also came out on top when it bagged the first price in the Australian Touring Car Championship in 1990, 1991, and then again in 1992.
On the technology front, the GT-R became a model of Nissan's fancy performance and advanced technology. Thanks to its flawless design, the GT-R series is a very attractive and nimble car that can perform well while setting high standards. Ultimately the power that this beast gets had got to be from its 3.8-litre V6 twin-turbo engine … which generates 276 horsepower and 266lb-ft torque.
Nissan does not like to mess about when it comes to building its engines, in fact, it's something that Nissan takes rather seriously at its Yokohama plant assembly point. They love getting their hands dirty and it generally takes around 6 hours to build its engine by hand.
Skyline GT-R series are illegal in the USA
Did you know that in the USA the Skyline GT-R series are illegal? Believe it or not, it can be so difficult to find a Nissan Skyline for sale outside of Japan. Given that this model is exclusively manufactured in Japan, it's not hard to see why it can be difficult to get your hands on it. It wasn't until 1997 that the UK was included in the sole export markets.
Looking to buy a GT-R? Before you get yourself the supercar, let us help you get rid of your current car. We can help you to sell your old car so that you can kit yourself out with the sports car of all sports cars. Get your free online valuation today right here and enhance your driving experience with the GT-R. Or you can always sell your Nissan online with Jamjar too.