Alpine A110 finally goes electric with the all-new E-ternité
Renault prepares itself for its all-electric future as it reveals an electric vehicle vision based on its existing A110 sports cars,
The open-topped A110 E-ternité has been created to celebrate the 60th anniversary of the French sports sedan and is intended to show Alpine's first step towards a new electric future.
The brief was simple, according to Auto & Design, all Renault had to do was to electrify the A110 to match the performance, balance, and agility of the thermal version. To do this, it had to build upon its existing strengths, experience, and technologies.
You would think that turning the much-loved Alpine into a sassy lightweight electric vehicle would be no problem for Renault, but it has faced some tough challenges along the way, particularly with its engineering, says The Sunday Times Driving.
They went on to say how the car was designed from the ground up to help utilise an internal combustion engine, yet so far battery packs have most of the time proven to be unacceptably heavy for sports cars, so it wasn't off to a great start based on this previous knowledge.
Alpine sourced most of E-ternité's drivetrain from the Renault Mégane E-Tech Electric
With a 261-mile range between charged and 60kWh of power storage, the A110 E-ternité is a concept set to deliver.
The battery pack has an overall weight of 392kg. By using the Renault Mégane drivetrain, sadly the twelve battery modules combined were sadly too big for Alpine E-ternité, but divided up and they were good to go. So you've got four at the front and eight at the back and thanks to weight savings elsewhere, thanks to Alpine's "clever construction techniques", the A110 has only gained a respectable 258kg overall.
The stunning new electric Alpine also makes use o the 'standard e-motor', driving the rear wheels, Auto Express reports. It also produces 239bhp and 300Nm of torque and has a gorgeous new gearbox with a new dual-clutch and two-speed transmission. Is there anything else this stunning new set of wheels has to offer?
Thanks to its amazing acceleration, you'll also find it doing 0-62mph in just 4.5 seconds and a top speed of 155mph, which is smashing for an electric vehicle.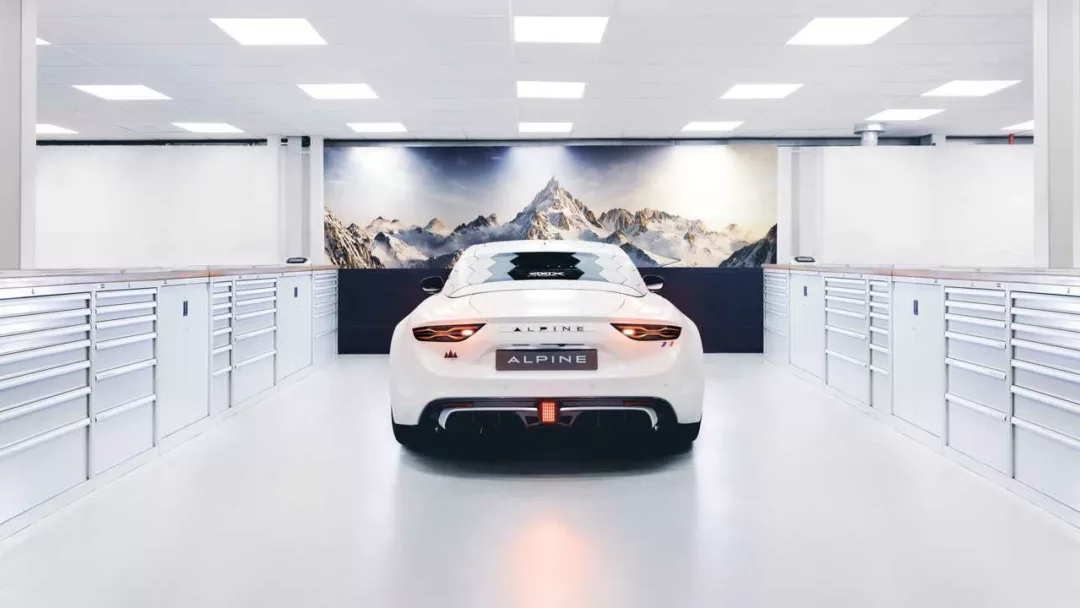 Engineers have managed to transform the Alpine A110 into a convertible that has two removable carbon fibre shells
We couldn't talk about the all-new A110 E-Ternité without mentioning its open-top roof, it's pretty hard to miss. This has to be the biggest physical difference between the electric Alpine. Thanks to this, that means you can switch to convertible in a matter of seconds if you fancy it.
Alpine says it has answered what it calls a "demand for a convertible A110", by providing this beauty so that you can have that open-top experience.
Although Alpine has not yet made any announcement about its production plans, we wouldn't be surprised if they did soon given that they have now built two examples of it already; a technical model and another to highlight new developments in materials.
Who knows when we could see the Alpine A110 E-Ternité on the road? It's obvious Alpine has some big plans and we should be expecting to see its all-electric sports car in around 2025. Will Renault have time on its hands to get this one underway and on the road to us as well? We'll have to wait and see and await that price tag that comes along with it too.