Ford has been the life and soul of the party for over 50 years now. It has produced some beasts of machines and these are just some of the fastest Fords of all time that have helped to make the legendary Ford RS badge so popular.
1970 Escort RS1600
The Ford RS's don't come along too often, but when they do, one thing for sure is that they are definitely worth the wait!
Take the RS1600 as an example. Ok, so this wasn't the first RS, but still, it was the first proper RS available for us here in Britain! Did we mention that this was the first RS that was built by hand too, in Ford's new Advanced Vehicle Operations factory? Who would have thought that this was the car that started the legacy of the Ford RS that we all know and love today?
With fewer than 1,000 made over just four years, you can imagine just how hard it is to get your hands on one of these now and the price of them too is just through the roof! Don't even get us started on the beast of an engine that this cracking RS has to offer. Its engine started with a four-valves-per-cylinder and it was developed and was used for years in rallying and touring car racing. We're not surprised with its 120bhp, 1.6-litre. It can keep up that's for sure.
1984 Ford RS200

This four-wheeled drive sports car, known as Ford's famous RS200, was Ford's pride and joy back in the eighties. Hats off to Ford for creating this miniature beast of a supercar that was built to take on the likes of Audi and Peugeot in the Group B rallying. They did a cracking job, don't you think?
Ford very kindly provided us with 200 road-going versions, with 1.8-litre turbocharged engines and if we're talking race compatibility, we're looking at between 350 and 450bhp! Thanks to the RS200's fibreglass body, it was reliant that's for sure. It was complex, always up for a good hill-climb, and it's a loved Ford RS for us.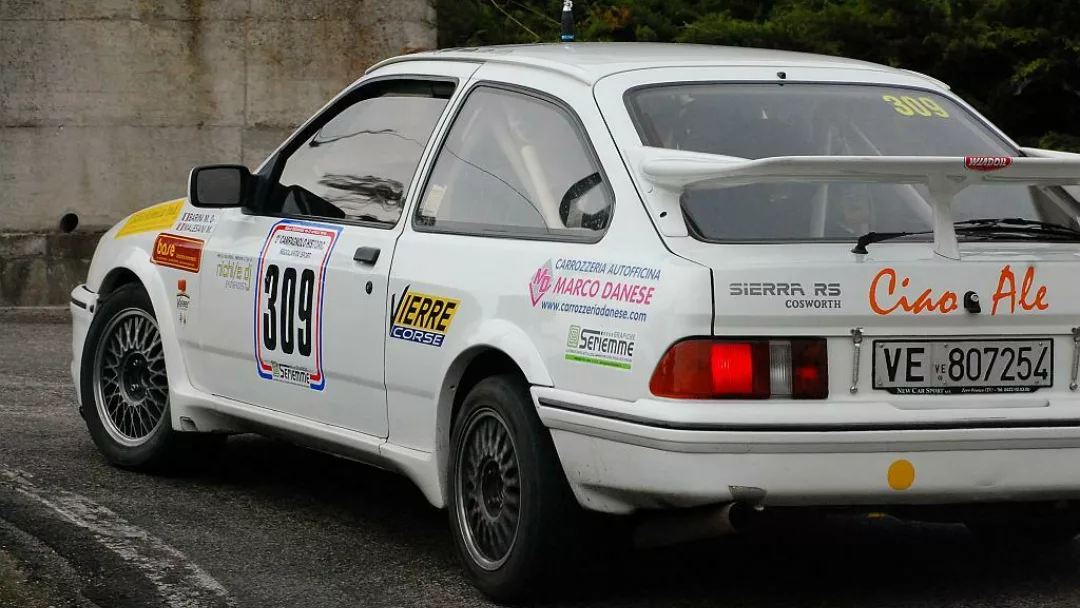 1985 Sierra RS Cosworth
It's fair to say that Ford never fails to disappoint us when it comes to delivering us with epic, hot RS's, and the Sierra RS Cosworth is no different. Launched in 1986, the Sierra RS took a slightly different turn in terms of its appearance to the standard Sierra family saloon. With its large whale-tail rear-spoiler and quirky front grille and bumper, this was a body to be desired.
The Escort wasn't the only mass-produced Ford model to get the special RS treatment. It turns out the Sierra RS was just as good to receive a turbocharged four-pot, 204bhp, and gorgeous wheel arch extensions. Powered by a 16-valve 2.0-litre engine, it can smash out around 149mph at top speed, we'll take that. Coming in at just shy of £16,000, it's a bargain of a supercar when you think about it.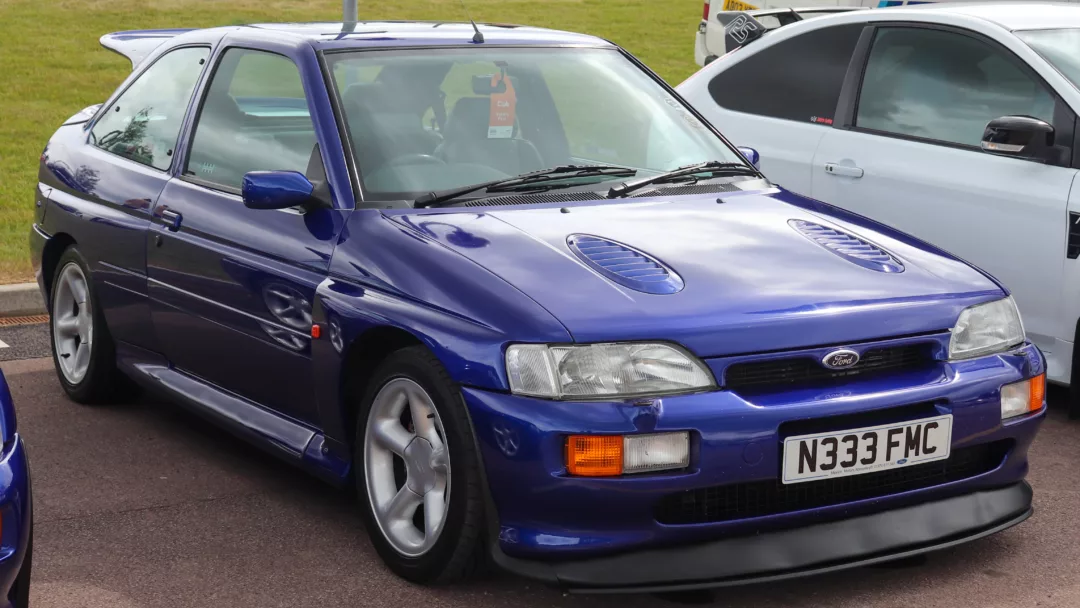 1992 Escort RS Cosworth
A true RS special, capable of more than 400bhp, you guessed it. It's the beautiful Ford Escort RS Cosworth. Also known as the "Cossie", it was introduced back in 1992 and it took Ford by storm. It was introduced to smash the first World Rally Championship in 1979. Although it didn't manage it, we still love it for racking up those eight wins as a Group A.
With its four-wheel drive taken from the Sierra 4×4 Cosworth, it truly is a Ford RS special. If you want 147mph and a 2.0-litre engine, this is the one. It's up there on our list, with its bulging body kit and excellent performance. It's clear why this was a giant killer back in the day. It even had the same 0-60mph time of 5.7 seconds as the Ferrari 348! Incredible, if this doesn't make you want one, we don't know what will.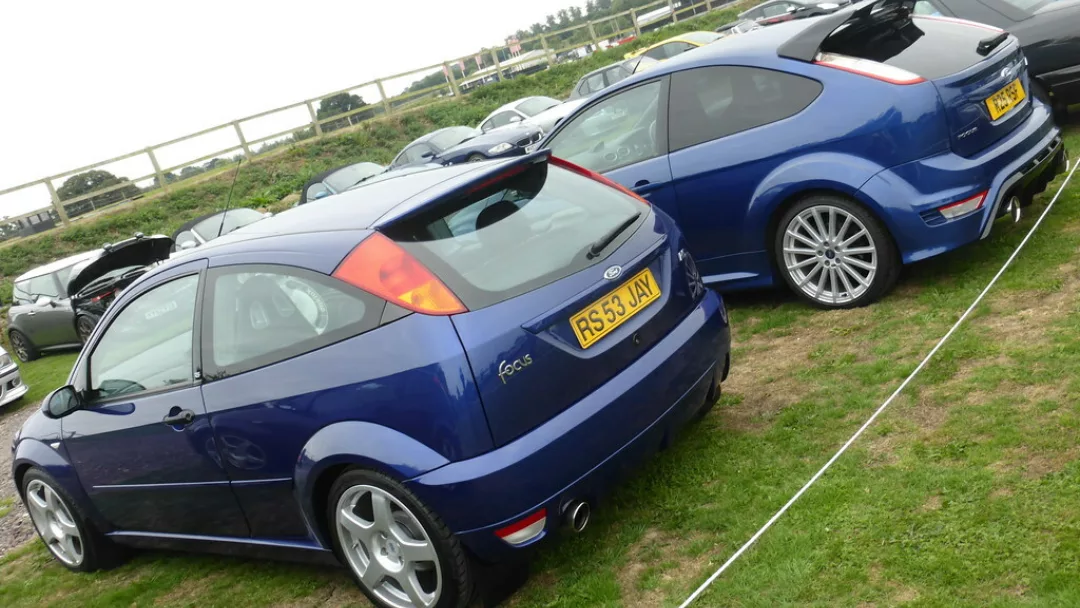 2002 Focus RS Mk1

Is this not just the hottest hatchback you ever did see? Of course, it is. It doesn't get much better than the original Ford Focus RS. When it launched in 2002, the first-ever Focus RS was a stunning blue oval car to wear the RS badge over six long years after the departure of the Escort RS Cosworth.
Powered by a 212bhp turbo engine, Ford decided to come up with a way to hold back that power behind its wheels, with a torque-sensing diff, which offered to divide out the power to whichever wheel on the car had the most grip, we just love it.
With its aggressive styling, the RS Mk1 just doesn't fail to disappoint. Impressive performance all around it has worked hard that's for sure, no doubt about it. It was more than capable of providing you with torque-steering, front-wheel drive, and a 16-valve Duratec engine. You just can't go wrong with this RS legend.