Who said the Italian Stallions haven't been busy? Have you seen what they've been up to recently? Brace yourself for the new Lambo Countach, 50 years in the making! If you're someone that doesn't want flashy scissor doors and tight angles when getting into their car, then look away now.
Legend of all legend
The most iconic sports car of all time. The most popular poster car of all time is back with a bang. It's time to get those wall pins back out again and get that 1970 Countach poster up on the wall. The Countach is a stunner of a 70's supercar and was born from a dream. It pushed the limits for years with its speed, new designs and made it to the top to create a sports car like no other.
Now 50 years on, no one saw this coming surely. Lambo has surprised us and made many of our Countach dreams come true. Incredibly limited for no, obviously, the Countach will be reborn and is set to make a comeback of all comebacks. It's fair to say the original Countach was never really known for its driving, we were more distracted by its sassy wedge-shaped features and rear wing.
Back to life, back to reality
If this isn't the best resurrection of all time then we don't know what is. The 2022 model sounds like it's set to be a homologation of Lambo's other hypercars, which have served us so well over the years. You can expect limited quantities, that's for sure and we wouldn't expect anything less, this is an iconic remake after all.
Coming in at around 2.64 million dollars, yes you heard that right and that's just the base price too, you can imagine just how much the final figure would be for this. You know how much this price will differ too from customer to customer, especially with Lambo's huge list of features they have to offer too. Your final price could be literally through the roof before you know it.
Countach has a dream
Since this epic news, gone are the days where you were counting sheep, now you'll be counting down the days until the new Countach arrives. Lambo has decided to do things a little bit differently though with the new Countach, as much as they love the old one, it's out with the old and in with the new. They have decided to spruce it up with a small electric motor, a mighty mid-mounted V-12 to get that 802hp, powertrain of dreams, right?
The idea of this is that the Countach will be able to boss it from 0-62mph in just 2.8 seconds and 221 mph top speed. If you saw this bombing down the road, we can only guess how long it would take you to get on the phone and order yourself one. That's if there's any left, of course, so far all the 112 copies of the 2022 model have already been spoken for so it's a no-no for the time being, sadly.
The biggest reveal for us is the design bridges that this new iconic model has with modern tech. It's all about V12 hybrids these days and the Countach is all about that. Drawing its power from a supercapacitor, it's sent to all four wheels through a seven-speed transmission. If you think about it, considering the Countach is due to weigh around 3516lbs, it makes it harder to imagine how it will go from here to there in a matter of seconds. Every Countach rides on 20-inch wheels with 21-inches at the back, so there's nothing new there. You should still be able to get in and out of those tight spots if you really tried, and there's plenty of protection too for if that double chin gets caught on any of those nasty speed bumps.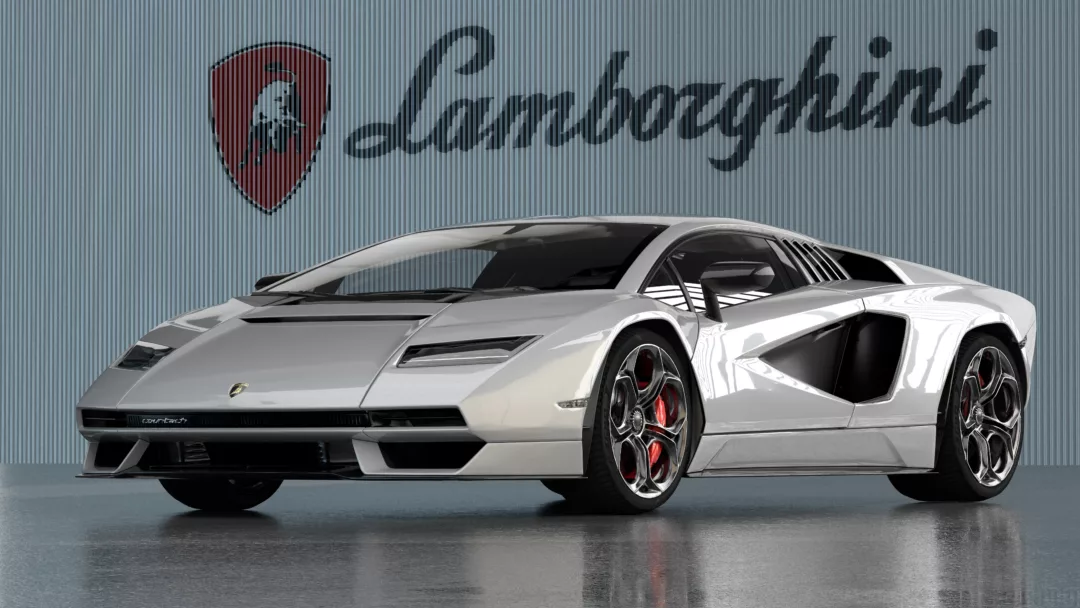 What's new for 2022?
More details on the new Countach are sure to follow over the next coming weeks, but one thing we do know is the title of this iconic remake. Say hello to the Countach LPI 800-4. You're probably wondering what that actually stands for, so here we go. LPI is short for 'Longitudinale Posteriore Ibrido', which is the fancy name for a long-mounted engine in the middle.
Staying true to the original Countach, we can expect to itself and its examples, so that would mean no rear wing. We know, we're crying inside too. Scissor doors are a given, mind your head and brace yourself for this bonkers feature. In case you're wondering what the '800' figure means too, this is the version's name and represents its output, and the number '4' is because this is an all-wheel drive. All in all, the new version will mark its 50th anniversary with this beast.
As expected, Lamborghini has remained tight-lipped as to when we will actually see the Countach in real life. If anything this just makes it more exciting and we want to get our hands on it even more. All we do know is that it's coming. If the Countach doesn't make a grand appearance at one of the biggest motor events, then we will be shocked. We don't think we need to say how much we can't wait to see it. Lamborghini has got some cracking ideas up its sleeve and we're here for it all day long.