Time for some new tyres but struggling with what to do with your old ones? How about reusing them and living sustainably by upcycling them? You could save money and resources all at the same time by recycling tyres. After all, as they say, one man's trash is another man's treasure, according to Rural Sprout.
Did you know that it has been illegal to send out-of-use tyres to landfill under the EU Landfill Directive 2006? As a result of this, old tyres need to be recycled or disposed of correctly. That's where we come in.
Thankfully, there are so many different ways that you could dispose of your old tyres, such as using them for garden use, which would be hassle-free and also not too bad on the environment either, win-win! Plus you don't need much to get started, simply paint, tyres, compost and some plants, plus some creative flair wouldn't go amiss and you'll be well on your way to creating a tyre planter for your outdoor space.
What is a tyre garden?
If you're feeling green-fingered, then a tyre garden planter could be the way forward. You could use your recycled tyres and turn them into decorative planters filled with soil, that could hold plants, vegetables and shrubs. Old tyres are great for this as they're deep enough for flowering plants and you can fill holes that help with water drainage. You'll be amazed what an old tyre, a spot of paint and some garden plants can do to transform your outside space.
In the sun, the tyres shouldn't cause you a problem as they will heat up, allowing the soil to dry faster, and helping to prevent root rot, according to Masterclass. What's the easiest way to set up a tyre garden I hear you ask? Well, you could simply place your tyre in your garden, fill it with soil and then plant some seeds or flowers. Or you could create your own garden of stacked tyres to create a raised bed of single tyres and paint them to make it even more fun and colourful.
Another option is to stack one old tyre on top of another to create a compost bin. This eco-friendly option to reusing old vehicle tyres is not only good for the environment but it can also aid the creation of a unique garden design that can be made of tyres painted with different colours and full of various plants.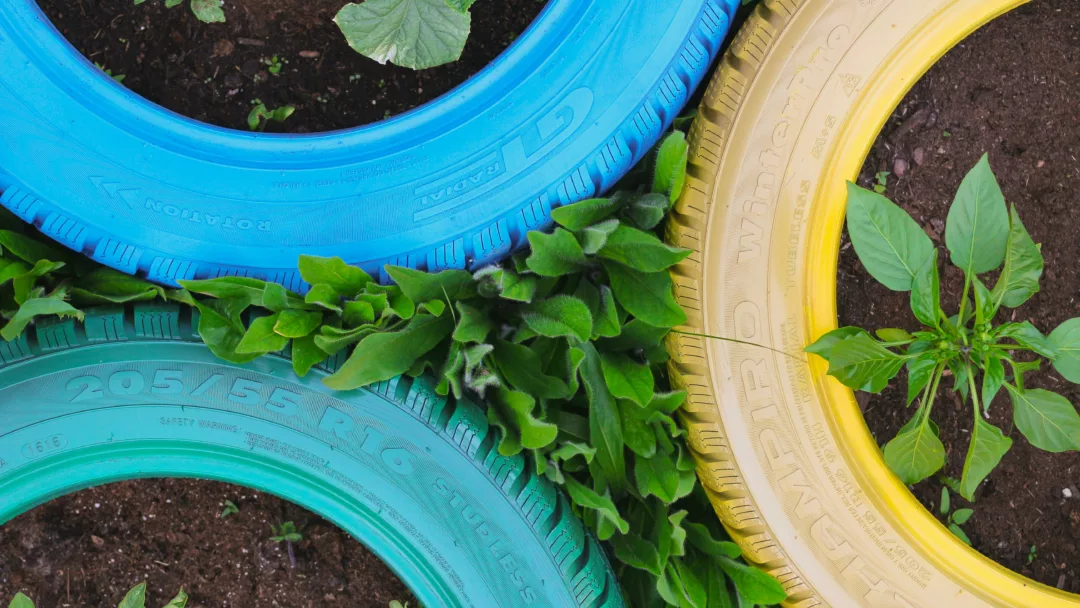 You could make a raised bed
If you're a raised bed kind of person, then growing vegetables in a bed of raised tyres could be the one for you. By doing it this way, they will require less water, which is a bonus!
If you decided to leave the tyres black rubber on show, that's fine as it will absorb heat from the ground, so it's a win-win. If you did fancy adding a splash of colour to your old tyres, you can do that too. A little colour never hurt anybody and the soil underneath will still be able to warm up because it's above the ground, which means you can plant sooner and your plants will grow faster, according to DIYnCrafts.
Simply fill a used tyre with soil then with planting seeds or plants of your preference. Stack the tires to create raised beds, it's that easy.
If you prefer to add some colour then grab some paint and create a unique design, fill your tyres with soil and plant your favourite shrubs and flowers to finish the look. Feeling extra creative then you could try to get your hands on a few different size tyres from car tyres to van or lorry tyres and create a design that uses more depth and size variation. It would make a great garden project to involve young people in and teach them about sustainability, recycling and being kinder to the environment while being creative and having fun.
You could create hanging tyres
You could spend a fortune on lovely decorative hanging baskets of flowers, or you could use your old rubber tyre to create that fantastic look instead. From wall planters to floor planters, you could also hang your planter too or have a mix of all three.
Once you've decided that you're going to go with the hanging tyre planter, line the inside of the tyre with a natural liner, fill it with some soil and plant. The rest is simple, tie a rope around the tyre and hang it so it falls beautifully from your wall. This could brighten up any outdoor space along a fence or garage wall. Painted tyres arranged along a wall with colour and plants to match your outdoor area could become the centrepiece of your garden.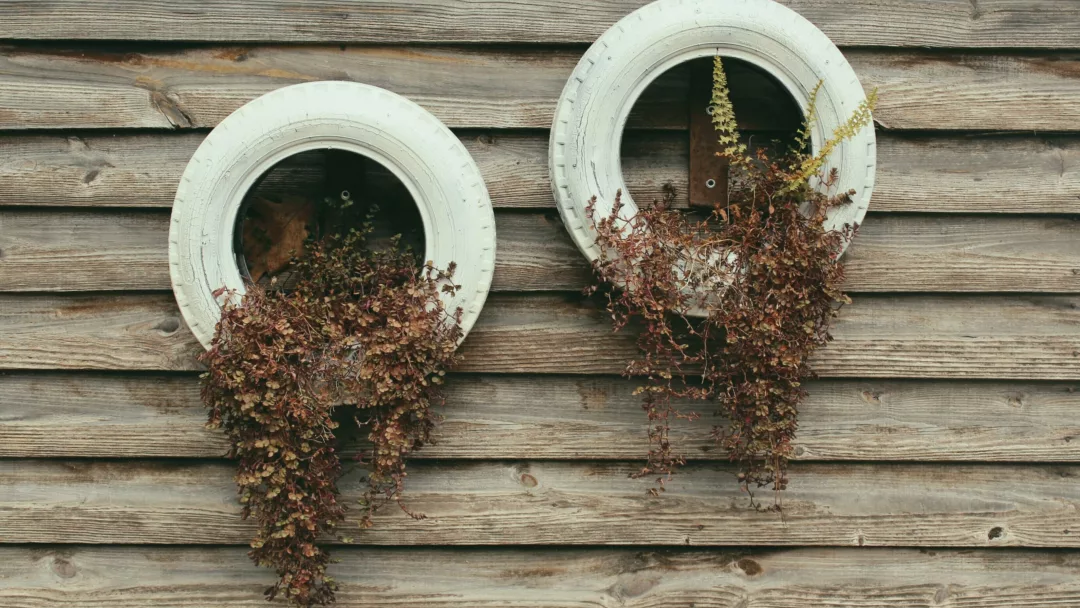 You could create a terraced garden
You don't need to have a two-acre garden to make use of tyre planters. You can make floor tyre planters in seconds, just by placing a tyre down where you want it and painting that black rubber. It's amazing what a splash of colour can do and some lovely garden designs if you wanted to as well, before filling it with soil and planting away. Old tyres for garden use are a fantastic way to show some creative flair and help the environment at the same time. Using old tyres in the garden may not have been your first idea for your old car tyres but hopefully, we've given you some inspiration.
It turns out that as well as creating a touch of stylishness to your patio, a tyre planter will also help to deter a variety of garden pests, like rabbits and certain insects too. So recycling tyres in garden design may well become a trend that catches on.
If after reading this, you've decided that crafting isn't your style, maybe the thought of decorating car tyres and turning them into garden stairs filled with plants doesn't sound that appealing and you don't want to create an obstacle course of old tyres in your garden, you could always just replace your old tyres if needs be. You could always check out our article on tyres, to find out whether it's worth replacing your tyres with budget ones or premium.